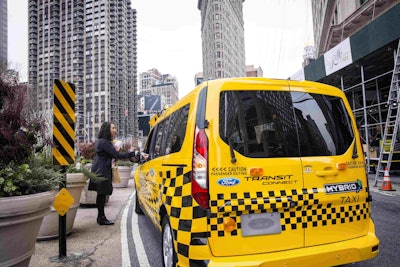 Ford announced today that hybrid versions of F-150 and Transit will be available by 2020 amid a growing wave of vehicle electrification that that the company says will overtake conventional gas engines and result in a total of 13 new electrified Ford vehicles within the next five years.
While at the automaker's plant in Flat Rock, Michigan, Ford President and CEO Mark Fields also praised President-elect Donald Trump and Congress for their business-friendly policies and added that his company has cancelled plans to build an auto manufacturing plant in Mexico.
Fields pointed out that Ford's decision to spend $4.5 billion to electrify additional vehicles is bolstered by a growing segment where the automaker has already sold more than 560,000 electrified vehicles worldwide since 2005. Fields said that Ford expects that trend to grow and predicted that in 15 years electrified vehicles will be out-selling their conventional gas counterparts.
"The reality is that electric cars are no longer an untested concept," Fields told Ford employees and members of the media gathered on the floor this morning at the Flat Rock plant. "They've driven millions of miles and they've saved consumers millions of dollars in costs on fuel."
Fields quickly played up some of the performance characteristics of electrified vehicles which continue to attract a growing number of consumers.
"Imagine electrifying a pickup truck for even more capability, or maybe a sports car, or maybe even a police cruiser for even more performance and more low-end torque, or even a commercial van for even more productivity in delivering packages in crowded cities around the world," Fields said. "Well, that's exactly what we're about to do. We're investing $4.5 billion in new electric vehicles—13 of them—within the next five years."
The hybrid F-150, which will be manufactured at Ford's plant in Dearborn, Michigan, will have some clear advantages over a conventional F-150 besides increased range and more low-end torque.
"Now, of course, we'll have increased capability, but what's really cool is that by electrifying it, it can double as a mobile generator capable enough to power a work site," Fields explained.
The Transit Custom hybrid plug-in will debut in 2019 in Europe only.
"It's engineered to reduce overall operating cost, even in the most congested of cities," Fields said of the upcoming hybrid Transit. "This is in addition to a test fleet of 20 Transit Connect hybrid taxis that we'll be testing here in major cities in the United States."
During his roughly 15-minute long talk, Fields praised President-elect Donald Trump who during his campaign had sharply criticized Ford for its plans to build a new $1.6 billion assembly plant in San Luis Potosi, Mexico. Last April Trump had said that if elected he would alter the North American Free Trade Agreement (NAFTA) so that it would prove financially punitive for U.S. companies that continue to operate under the original 1994 NAFTA agreement.
"We're also encouraged by the pro-growth policy that President-elect Trump and the new Congress have indicated that they will pursue," Fields said. "And we believe that these tax and regulatory reforms are critically important to boost U.S. competitiveness and of course drive a resurgence in American manufacturing and high-tech innovation.
"Now, all of these factors, coupled with segmentation shifts that we're seeing in the marketplace and our effort to fully utilize the capacity at existing facilities have prompted us to obviously invest in Flat Rock's expansion and to cancel building a new plant in Mexico."
Fields announcement was met with applause. Later, during an interview with Fox Business News, Fields explained that Trump's criticism had nothing do with the company's decision to scrap its plans in San Luis Potosi, but rather a decrease in demand for small cars had led the automaker to end the deal.
The automaker is investing $700 million and adding 700 direct new jobs at its Flat Rock Assembly Plant to create a factory capable of producing high-tech electrified and autonomous vehicles—plus the iconic Ford Mustang and Lincoln Continental.
Mustang is among Ford's vehicles that will be getting a V8 hybrid update. Others include two police cruisers and a fully electric SUV with a range of 300 miles.
In addition, Ford announces that its global utility lineup will be the company's first hybrids powered by EcoBoost rather than naturally aspirated engines, which Ford says will improve performance and fuel economy.
The company also plans to be as aggressive in developing global electrified vehicles services and solutions. These include EV fleet management, route planning and telematics solutions.
Understanding customers
Ford has been extensively studying how past and current EV owners use their vehicles. The company has sold more than 520,000 electrified vehicles in North America since 2005 and 560,000 globally.
In studying 33,000 Ford EV owners that have made 58 million unique trips, Ford has learned:
88 percent of customers' habitual daily driving distance is 60 miles or less. For plug-in hybrids, the average refueling distance is 680 miles, making gas station trips rare
Customers want as much electric range as possible, but range anxiety drops over time as they become more comfortable and familiar with the technology
80 percent of Ford EV customers charge once a day; 60 percent during evenings
Ford EV customers collectively have plugged in their vehicles a total of 9.4 million nights
An overwhelming majority of Ford EV owners expect to replace their current EV with a new one, additional Ford research shows. Specifically:
92 percent of battery electric car customers say they will purchase another battery electric vehicle as their next purchase
87 percent of plug-in hybrid customers want another plug-in for their next vehicle