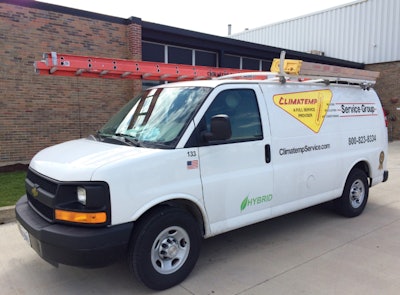 XL Hybrids Inc. has installed hybrid electric drive systems in service vans for Chicago-based Climatemp Service Group.
The four Chevrolet Express vans upfitted with XL3 hybrid systems also feature XL Link's cloud-based fleet vehicle connectivity and analytics system which includes measurements on fuel efficiency and CO2 reduction.
Regenerative braking in the XL Hybrid system recharges the battery when the brakes are applied. No fuel system upfits are required. The system is installed under the vehicle leaving cargo space untouched.
"The XL3 Hybrid Electric Drive System lowers the total cost of ownership for fleets," XL Hybrids states on its website. "With up to a 25 percent increase in MPG that translates into a 20 percent reduction in fuel costs, lower brake maintenance, and improved driver productivity, XL Hybrids can help fleets achieve a positive payback without relying on government subsidies."
XL Hybrids reports that OEM warranties and service are not affected by the systems.