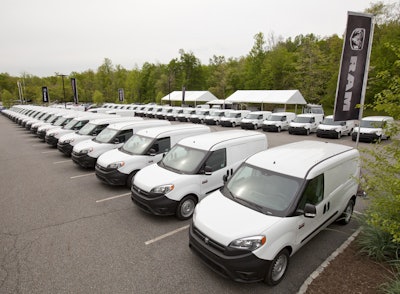 Ram Truck dealers from around the New York City area made their way to Pearl River, N.Y., this week to load-up on new Ram ProMaster City vans.
The Ram Commercial Truck brand hosted a one-day dealer drive-away event for the popular new ProMaster City van. From there, dealers will head head back to their stores with dozens of small vans destined for all sorts of small businesses – from caterers to locksmiths.
Following Ram Commercial Truck brand's best February, March and April on record for small-van sales volumes, Ram dealers have been clamoring for more shipments in order to meet the unprecedented demand.
The ProMaster City's class-leading features and third-party accolades, including Green Car Journal's 2016 Commercial Green Car of the Year, have helped boost the van's success.
Ram ProMaster City offers various best-in-class standard features: 178 horsepower and 174 lb.-ft. of torque; payload of 1,883 pounds; cargo volume of 131.7 cubic feet; 24 combined mpg (21 mpg city/ 29 mpg highway); towing capacity of 2,000 lbs.; exclusive 9-speed automatic transmission; powertrain warranty of five years/60,000 miles.
The 2016 Ram ProMaster City is Ram's newest addition to its commercial vehicle lineup and contributes to the expanding, purpose-built van segment with functional elements tied directly to commercial customer demand. ProMaster City opens a door for incremental growth of Ram's brand sales volumes.
Available in Tradesman cargo or five-passenger Wagon variations, the Ram ProMaster City is based on the successful Fiat Doblò, a two-time International Van of the Year winner with more than 1.3 million units sold. Ram reports that the Class 1 entry incorporates familiar Ram design elements and offers features, systems and powertrains preferred by North American customers.