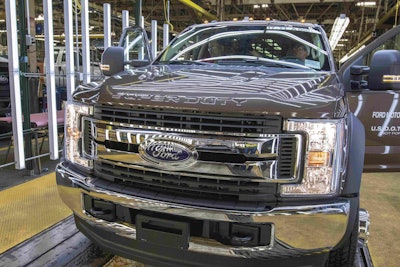 Ford Motor Company is investing $1.4 billion in its Livonia Transmission Plant as the company looks to build in June a new 10-speed transmission that will first be introduced in the all-new F-150 Raptor and select F-150 models next model year.
The money spent in Livonia, and an additional $200 million investment in the Ohio Assembly Plant, are part of the $9 billion commitment the company made in the 2015 UAW-Ford collective bargaining agreement to continue investing in its U.S. plants.
"We are proud that Ford employs more hourly workers and builds more vehicles in the United States than any other automaker," says Joe Hinrichs, Ford president, The Americas. "We are committed to manufacturing in the United States, as we have been for more than 100 years."
Ford has invested $12 billion in its U.S. plants and created a total of nearly 28,000 U.S. jobs in the past five years and the company says the latest round of investments create or retain 650 hourly jobs in the U.S. – 500 hourly jobs in Michigan and 150 hourly jobs at the Ohio Assembly Plant, which will build Super Duty chassis cab.
Ford has committed to 2,800 U.S. jobs in the past five months. The company has committed to a total of 8,500 hourly jobs in the U.S. during the next four years in communities across Michigan, Illinois, Kentucky, Missouri, New York and Ohio.
Livonia Transmission Plant currently builds a six-speed transmission that is used in a number of products including Mustang, F-150, Transit and Expedition.
Ohio Assembly Plant began building F-350, F-450 and F-550 Super Duty chassis cab configurations earlier this year. The plant also produces Ford F-650 and F-750, which was insourced from Mexico last year, as well as Ford E-Series cutaway vans and stripped chassis.