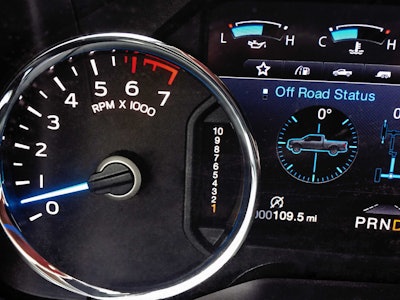 Most drivers, who care enough to listen, can tell what gear their automatic transmission is in as they travel down the road.
But then again, most automatic transmissions don't have 10 speeds which could prove challenging for the proudest autophiles who juggle cell phones, radio and passenger chatter while subconsciously listening to every click, tick, whirr or buzz that their vehicle may have to offer.
Enter Ford's new instrument panel for the 2017 F-150. Drivers will now just simply look up to the dash and see at a glance current gear selection for their 10-speed transmission as its being powered by Ford's new 3.5-liter EcoBoost engine.
Ford teamed up with GM to develop the 10-speed transmission.
"It's part of a partnership that we have with General Motors, but we manufacture the transmission for F-150 and we also have a unique calibration for F-150," Ford Truck Communications Manager Mike Levine told HWT in February. "The transmission will be shared between Ford and General Motors."
Levine, like other Ford truck fans, is excited about the new transmission.
"The all-new Ford-built transmission—the first volume-production 10-speed automatic available to consumers—will deliver improved acceleration and performance compared with previous six-speed automatic transmissions, thanks to optimized wide-span gear spacing coupled with drag-reduction actions," Levine writes in today's press release. "Three overdrive gears and a wider span enable lower-numerical rear-axle ratios to help improve fuel efficiency at highway speeds while still maintaining best-in-class towing performance."
Ford reports that smarter shift logic helps 2017 F-150 customers tow with improved confidence using tow/haul mode. New adaptive shift-scheduling algorithms monitor more than a dozen powertrain and driver control signals in real time resulting in what Ford says is "the right gear at the right time for an engaging driving experience, including in sport mode."
An integrated electric pump works with the standard Auto Start-Stop system for engine restarts and improved driving efficiency.
Weight savings play a key role in improved shifting performance, Ford reports. The 10-speed gearbox—the first from Ford not to employ cast-iron components—uses advanced materials and alloys that result in lighter weight. An integrated torque converter/turbine clutch helps shave an additional two pounds, while also reducing the packaging footprint.
Ford's new 10-speed transmission will be mated to the company's new 3.5-liter EcoBoost engine. Ford reports that this new second-generation V6 produces a best-in-class torque of 450 lb.-ft., which, according to the automaker, beats all gasoline and diesel-powered competitors.
"The new engine provides better low-end and peak engine torque," Levine writes. "It is ideal for hauling heavy payloads and towing heavy trailers."
Ford is investing $1.4 billion at its Livonia Transmission Plant in Michigan to create or retain 500 hourly jobs to build its new 10-speed transmission.