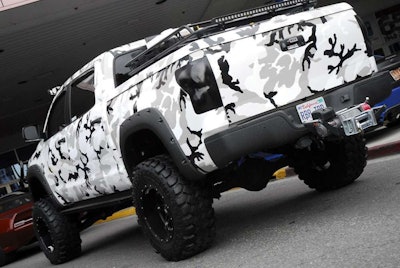 In part 1 of Alternative Auto Finishes, Hard Working Trucks takes a closer look at Plasti Dip, which offers a less expensive and non-permanent way to change the color of your truck or van.
Conventional vehicle paint jobs are being challenged by alternative finishes that offer some appealing features, especially for businesses that are eager to stand-out from the competition.
Take for instance Plasti Dip. The rubber coating used to coat tool handles can be enhanced with additives which offer a range of eye-catching finishes.
The prominent feature, however, is that once a truck or van is covered with the flexible coating, it can be peeled off later if another color is desired. This change-up feature comes in handy for those who are always looking for that next head-turning color.
Plus, Plasti Dip's lower cost and far easier prep time are also helping it gain more traction as an alternative to auto paint. In fact, auto applications are now the number one use for Plasti Dip.
"Forty years ago we were covering tool handles," reads a caption on the company's website, dipheadsunite.com. "Now, we're dipping everything in sight!"
Tiffany Sader, inside sales and customer service representative at Plasti Dip, says it's best to apply three to five coats of Plasti Dip to a vehicle, though some users apply more. A thicker coat makes it easier to peel later.
"If it's applied too thin, it's harder to peel off. It comes off in little pieces. It's not going to come off in one, larger sheet. Whereas if you apply more coats, it's easier to remove," Sader says.
Plasti Dip is cheaper than conventional paint, too. The average price per gallon for Plasti Dip is around $25, Sader says. A gallon of acrylic enamel auto paint at amazon.com was selling today for around $90.
"You can make your own color with a clear Plasti Dip," Sader explains. "You just have to tint it with an enamel or solvent based paint tint."
While major retailers mostly carry aerosol cans and 14.5-ounce containers of Plasti Dip, gallon sizes are available through special order or online. It's recommended that a Binks Model 95 spray gun be used to apply Plasti Dip. Wait time between coats is 30 to 40 minutes and cure time is 24 hours.
Some users apply graphics by using a stencil and rolling on Plasti Dip. Overspray is avoided using this technique. However, this method is preferred for matte finishes. Rims, grills, trim, bumpers, badging and other items can be Plasti Dipped. The product has also been used to give a facelift to auto interiors, such as dashboard components.
Plasti Dip offers a primer that makes its rubber coating more permanent. However, customers interested in the peeling feature should avoid using it.
Be careful when fueling up a Plasti Dip vehicle. Gas will stain the surface of the finish. A small gas guard, which retails for around $9 at dipyourcar.com, slips over the fuel filler neck and can easily be lowered down onto the vehicle's body prior to fill-up. Once done, the guard is simply tucked back into the cap area behind the fuel door.
Another attractive feature of Plasti Dip is the minimal prep time. Soap and water is all that's required to prep the vehicle's surface prior to spraying. Depending on wear and tear, a Plasti Dip finish will last between three and five years, Sader explains.
Chicago Dipped co-owner, Jameson Emling, tells Hard Working Trucks that to apply Plasti Dip to a Ford Transit Connect his shop will charge between $1,700 for a matte black finish and $2,500 for a gloss pearl finish.
"If you want an exotic color on your vehicle, it's an affordable way to change the color without effecting resale value," says Emling, a U.S. Marine Corps reservist.
A Plasti Dipped vehicle can be pressure or hand-washed. Matte finishes are the least expensive. Other available finishes available through Chicago Dipped include satin, pearl, flat gloss and pearl gloss. Emling said a product called Dip Coat can be applied to toughen the finish and make it smoother to the touch.
As far as placing vinyl graphics on a Plasti Dipped vehicle, like for instance to advertise a business, Emling says it's fine. However, the coating will peel, he says, when the graphic is removed.
Chicago Dipped recently began using a new peelable coating called Autoflex. Stronger than Plasti Dip, this Autoflex is sandable, waxable and resistant to chemicals, such as gasoline.
"It also has a glossier finish than OEM paint," Emling says.
In comparing prices at chicagodipped.com, the starting price for a matte Plasti Dip finish ranges between $650 to $950, while Autoflex starts at $1,900.