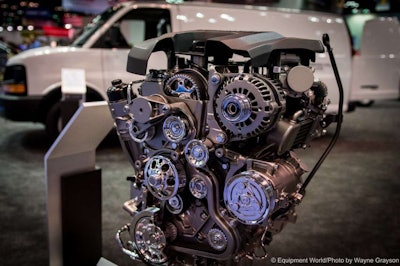 General Motors Fleet announced that its 2.8L Duramax turbo-diesel engine will be offered in 2017i MY Chevrolet Express and GMC Savana Cargo and Passenger vans.
Start of production will begin in the first quarter of calendar year 2017. This is the same diesel engine that is used in the Chevrolet Colorado that was named the 2016 Motor Trend Truck of the Year.
This option will give business owners and fleet managers the ability to benefit from increased fuel economy in a traditional body on frame van.
In addition, the 2.8L Duramax turbo-diesel will be offered with an 8-speed transmission and will be available on long and short wheel base models in 2500 and 3500, cargo and passenger vans. This is the first small diesel engine that is offered in a traditional, body on frame, full size van.
"Each business has different needs and our fleet and commercial vehicles embody that," says Ed Peper, U.S. vice president, General Motors Fleet. "Our portfolio of pickup trucks and vans illustrate our commitment to helping you get the job done right."
(Photo by Wayne Grayson, equipmentworld.com.)