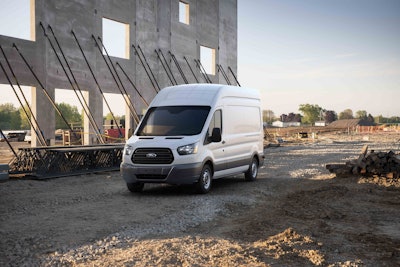 Following customer feedback, Ford says it has enhanced its van lineup for the 2017 model year hoping to make the vehicles even more appealing to fleets and small businesses.
Offering a choice of 64 configurations, up from 58 in the previous model year, Ford reports that Transit's best-in-class flexibility has helped it become the best-selling commercial van in the U.S.
Now, new optional features, from low-profile center consoles to power running boards, are available to help customers tailor Transit even closer to their business needs.
Some of the newly available configurations include Transit 350 regular-wheelbase van, and chassis cab and cutaway, with single rear wheel and 9,500-pound GVWR.
The 3.7-liter engine will now be standard on dual-rear wheel van and wagon models, lowering the base price and providing the option of CNG or LPG capability.
2017 Ford Transit is updated with a number of interior changes driven by fleet customer feedback. A low-profile center console option is available on all Transit variants for delivery drivers and others who want easier access to walk from the cab into the back of the vehicle. The feature also makes it easier for fleets to install computer equipment in the center console area.
"Walk-through center consoles are just one enhancement we are adding in response to real-world driver input," says Yaro Hetman, brand manager, Ford Transit, Transit Connect and E-Series.
"Fleet customers tell us they love Transit, and we are making it even better for the 2017 model year."
Heated driver and front passenger leather and cloth seats are available, and 10-way power-adjustable seats can be ordered in cloth on all Transit variants.
High-capacity upfitter switches are available across the Transit lineup. The switches are enhanced with two increased amperage outputs, two battery hot outputs and two un-switched outputs. The output connector has been moved to an easy-access location behind the glove box in response to upfitter requests.
The available high-capacity upfitter switch upgrade includes a heavy-duty alternator, auxiliary fuse box, modified vehicle wiring system, dual heavy-duty batteries and a new interface connector that provides read-only CAN access in addition to a variety of signals useful to upfitters, including power supply, engine start, engine run, stop lamp, door ajar, turn indicators, vehicle speed and handbrake engagement.
For 2017, Transit's base audio system is enhanced to include four speakers with a tweeter and woofer.
A rearview mirror is available for Transit cutaway models.
LED lighting is enhanced and made standard in Transit vans for better cargo area visibility while loading and unloading. A 12-volt powerpoint in the D-pillar is standard on vans for powering equipment like cordless tool batteries.
Power running board among exterior changes for Transit
A passenger-side power running board is available for Transit wagons and vans without dual sliding side doors; the running board also has been widened.
Transit cutaway and chassis cab now can be ordered from the factory configured so upfitters can easily activate the rear stop lamp and rear turn signal to operate independently. This modification is common for certain vocational uses like ambulances and school buses. Separating the light functionality on Transit vehicles used to require a trip to a Ford dealer to reconfigure the Body Control Module.
Aluminum-alloy wheels, which are designed to be easily cleaned, are now available with locking lug nuts for all Transit variants with GVWRs less than 9,500 pounds. Molded wheel well liners for the front wheels are available as well.
White Gold Metallic paint replaces Lunar Sky Metallic for the new model year.
Customers can begin ordering their 2017 Transit online starting April 4, with availability at Ford dealerships in September.
New smart technology for Transit Connect
Ford Transit Connect, America's best-selling compact commercial van, also gets enhancements for 2017.
SYNC 3 with 6.5-inch touch screen and navigation is standard for 2017 Transit Connect Wagon Titanium. The system features faster performance, more conversational voice recognition, a more innovative smartphone-like touch screen and easier-to-understand graphical interface to help Ford customers connect on the road. SYNC 3 is optional on Transit Connect XLT cargo van and Transit Connect Wagon XLT.
Transit Connect Wagon will be available in two new premium packages for Titanium and XLT trim levels, while short-wheelbase vehicles can be ordered in Titanium trim for the first time. Reverse sensing, automatic headlamps, roof rails and six-way power driver's seat are now standard equipment for Titanium and XLT trim levels.
Guard Metallic paint replaces Tectonic Silver Metallic for Transit Connect Wagon late in the model year.
Ordering for the 2017 Transit Connect cargo van and Transit Connect Wagon begins online March 14, with vehicles available at Ford dealerships in September.
New engine for E-Series stripped chassis and cutaway
Ford E-Series stripped chassis and cutaway models, frequently modified into ambulances, delivery vans and motorhomes are getting a new engine for 2017.
The 6.2-liter V8 engine proven in Ford F-Series Super Duty trucks will be available midyear for 2017 E-Series cutaway. Customers can choose from the new 6.2-liter V8 or the standard 6.8-liter V10.
The 6.2-liter V8 engine's single-overhead-cam design and dual-equal variable cam timing help optimize power through the entire power range. The engine is E85 flex fuel-capable, meaning it can run on unleaded gasoline or E85 (85 percent ethanol, 15 percent gasoline).
A CNG/propane gaseous engine prep package is available for conversion to compressed natural gas or propane autogas. An E-Series cutaway with the CNG/propane package can be upgraded with aftermarket upfits to bi-fuel capability – enabling it to run on either unleaded gasoline or natural gas.