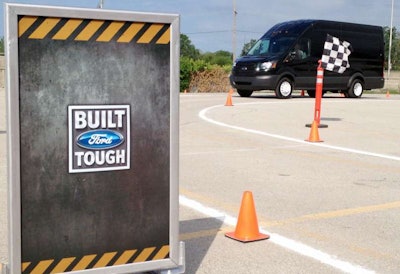 Later this summer Ford's new Transit will hit dealership lots and usher in a new era for the company's commercial vans. Ford plans to replace its E-Series, the most popular commercial van in the U.S. for more than 30 years, with the Transit, the most popular commercial van in Europe for nearly 50 years.
I had the chance last week to put several new Transit 350 vans on the roads of Kansas City, Mo. in the shadows of the Ford Assembly Plant where they are made. The van is available in three roof heights: low (83.6 inch vehicle height, 56.9 inch interior cargo height), medium (100.8 inch vehicle height, 72 inch interior cargo height) and high (110.1 inch vehicle height and a best-in-class 81.5 inch interior cargo height); features three engine packages (3.7 liter V6, a 3.5 liter EcoBoost V6 and a 3.2 liter in-line-five PowerStroke diesel) and two wheelbases (148 inches and 148 inches extended). Each engine is matched with a six-speed SelectShift automatic transmission.
Engine configurations
The standard 3.7-liter V6 gets 19 percent better EPA- estimated highway fuel economy than E-Series standard gas engine. Each test unit was loaded with a little more than a ton of rubber mats strapped to the cargo floor, and pushed the load around the city with ease.
When equipped with the 310 horsepower EcoBoost engine, Transit low- and medium-roof regular wheelbase wagons get a 14 mpg city/19 mpg highway EPA-estimated rating. That reflects an improvement of as much as 46 percent compared with the 10 mpg city/13 mpg highway EPA-estimated rating for the Ford E-Series 6.8-liter V10 gas engine.
The twin-turbo EcoBoost provided ample horsepower and torque in my drive around Kansas City, darting in and out of traffic under normal highway and merging conditions. It will be a formidable replacement for the V10 with even Ford's most devout E-Series customers.
The PowerStroke was "peppy," effortlessly pushing the 148-inch wheelbase high roof van through both highway and city traffic. The PowerStroke puts out about 185 horsepower in this van, which may be a bit much considering the van's load capacity of 4,650 pounds and a tow capacity of 7,500 pounds.
The PowerStroke provides 90 percent of its peak torque from 1,500 to 2,750 rpm. Quick-start glow plugs offer fast startups at temperatures as low as 10 degrees below zero Fahrenheit and a variable geometry turbocharger helps deliver quick power.
I felt like the PowerStroke and the EcoBoost engines were somewhat overpowered in these vans, but I think that's a good problem to have. The vans offer a lot more cargo space over the E-Series and the uptick in horsepower means you've got more juice to move more freight in fewer trips.
Cargo space
The high roof Transit is the tallest Ford makes and there's headroom to spare. You can be 6'4″ and still stand up while loading and unloading cargo in the high roof configuration. I'm 5'9″ on a good day and I could stand comfortably in the medium roof configuration.
The height of the high-roof van is almost imposing to onlookers. It's tall. But the frame's unibody construction takes a lot (if not all) of the "top-heavy" feel out of the van. I pushed the van pretty hard through the slalom course to see if it would get a little sloppy. It never did. I gave a lot of credit for that to the dual rear wheel design, but the single-axle model had just as much control when pushed just as hard.
The Transit 350 handled more like an SUV than a cargo van, and its tight turning radius is a definite upgrade over the E-Series. The gear shift has been moved from the floorboard to the dash and the "doghouse" has been eliminated, leaving plenty of storage space between the seats.
In the rear of the van, there are ample pats in the bay for strapping down cargo, and in the high roof configuration, stacking crates and boxes is a snap. The long wheelbase model – featuring 75 percent more cargo room than the largest E-Series van configuration – leaves plenty of room for a few pallets and a little more room for extras.
Rear doors are available to open at 180 or 270-degrees, making loading and unloading even easier.
Upfitting, comfort and management
If you're not a cargo hauler, Ford didn't overlook you. Ford built up to 10 mounting points into the van roof, which means upfitters don't have to drill their own holes, inviting rust into your new van.
The van features a 10-way adjustable seat, which provides comfort at the tip of your fingers for drivers who spend a lot of time in the seat. There is a 12-volt charger and USB built into the console, so there's more than enough space to charge phones, run GPS or whatever else. Visibility in the van is exceptional and interior/driver comfort is top-notch.
And if you're the guy who's cutting the check but not necessarily driving the van, Ford's Crew Chief telematics platform will be your best friend.
Powered by Telogis, the system does just about anything you'd want to track the performance of your best and worst drivers – from tracking hard acceleration and braking to pinpointing speeding.
Impression
The Ford Transit is the company's attempt at a global vehicle, and they've nailed it. This van is set to compete with Sprinter but you can bet it will give every cargo and work van a run for its money.
With power to spare, improved efficiency and more cargo capacity, the Ford Transit is everything the E-Series never was, and once you climb the behind the wheel of one that will be plainly obvious.