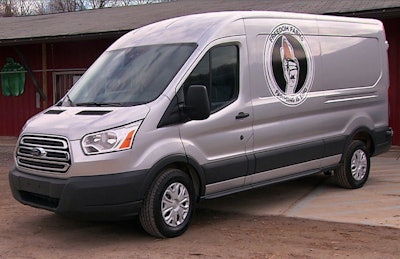 The all-new Ford Transit will help the King family complete farm chores on season four of the Great American Country Network's lifestyle series "Farm Kings," which premiered this past weekend.
The Kings will put Transit to work as a rolling workshop stocked with tools and supplies to maintain the farm's daily operations. A custom shelving unit has been installed in the van to organize and secure gear.
They'll also use Transit to haul produce, signage, tables and chairs to their stand at the local farmer's market.
The King family owns and runs Freedom Farms, a 200-acre operation outside of Butler, Pa., that pasture-raises chickens, cows and pigs without the use of antibiotics or artificial hormones. The farm also grows fruits and vegetables.
"Farm Kings" shows how tough farming can be, especially when the stresses of a large family come into play.
"The partnership with Ford and Great American Country's 'Farm Kings' created the perfect environment to showcase all of the new Transit's capabilities, and our new lifestyle series delivers highly engaged consumers," says Bob Calandruccio, vice president of sales for Great American Country. "We look forward to building more partnerships with top advertisers like Ford."
The van featured on the show is a medium-roof, long-wheelbase (148 inches) Transit 250 in Ingot Silver, with 357.1 cubic feet of cargo space and 72 inches of maximum interior height. It is powered by a Ford-built 3.2-liter Power Stroke five-cylinder turbo-diesel that delivers 185 horsepower and 350 lb.-ft. of torque.
With rear doors that open 270 degrees and a floor height of 29 inches, Transit is well suited for loading and unloading and other farm chores. When properly equipped, Transit 250 with the 3.2-liter Power Stroke can carry up to 3,390 pounds of cargo and tow up to 7,400 pounds.
"Farming is a tough life, and the Kings work hard at making their family business successful," said Minyang Jiang, Ford brand manager for Transit. "The new Ford Transit is another tool to help them deliver on their promise of serving and feeding their community and educating the public about the importance of farming. This tool happens to be Built Ford Tough."
A 2014 Ford F-150 has been added to the King family vehicle lineup this season as well, for agricultural work more suited to pickup truck duty.