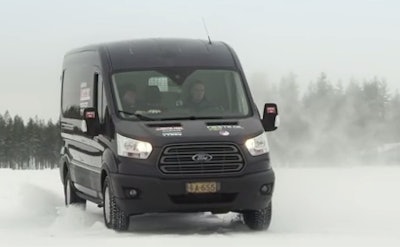 Ford Motor Co. reports a landmark double victory in one of the most grueling tests of vehicle performance on the planet – the Arctic Van Test.
The all-new Ford Transit and the all-new Ford Transit Connect finished first in their respective classes after competing in the five-day ordeal that subjects vehicles and drivers to extreme challenges in ice, cold and snow, in the frozen north of Finland – where temperatures can drop as low as 60 degrees below zero.
From slaloming across a frozen airfield, to tackling a torturous 435 mile route of icy, rutted roads, the Transit vans won for their overall performance across categories that included fuel efficiency, load carrying, and handling.
"Every one of our new Transits is tested in the world's toughest climates and driving conditions long before launch, so they are prepared for just this kind of challenge," said Paul Randle, vehicle line director, Global Commercial Vehicles, Ford of Europe. "Our customers depend on their Transits to get the job done, and we have made sure they are ready for work, whatever the weather."
Expert drivers from six European commercial vehicle magazines drove all the vans taking part in the Arctic Van Test and rated the two Transits winners to deliver Ford's first double victory in the event's 23-year history. The challenge also tests engine starting, and heating and demister operation, after vehicles have been left outside overnight in sub-freezing conditions.
The all-new Ford Transit was rated top or joint-top in nine out of 13 categories. The smaller all-new Ford Transit Connect was ranked top or joint-top in seven categories, and particularly impressed for its handling and stability in icy conditions, according to Ford.
"The Ford vans were clear winners in very slippery conditions – a great advantage when frozen roads can be found anywhere, and not just found on the test track," said Heikki Laurell of Auto Tekniikka ja Kuljetus magazine in Finland, which organises the annual event. "Our tests push vans to the limit, and can be quite a shock if you are not used to a Scandinavian winter."
Ford is expected to roll out the 2015 Transit in the U.S. this summer.