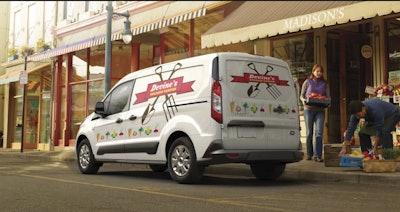 Over the past three months U.S. sales of the new Ford Transit Connect have been running at a best-ever pace, Ford reports. Year-over-year combined sales of Transit Connect and Transit Connect Wagon are up 27 percent for the period ending July 31.
June was the single highest sales month since the 2009 launch of the vehicle in the United States, with 4,573 vehicles sold – a 29 percent year-over-year increase. Last month marked the best-ever July for Transit Connect, with 4,090 vehicles sold – a 42 percent increase over 2013, according to Ford.
"Consumer demand is being driven by people who want a modern vehicle that brings utility along with value and efficiency," says Erich Merkle, Ford sales analyst. "Transit Connect and Transit Connect Wagon offer capability and flexibility in a stylish package that resonates with the customer."
The percentage of new wagon models being sold is nearly three times higher than last year, as retail demand for Transit Connect Wagon continues to build, the company adds.
With the launch of the 2014 Transit Connect, the vehicle is now available in both van and wagon versions, with the wagon allowing for seating up to seven. So far this year, Transit Connect Wagon represents 34 percent of total Transit Connect sales. Compare that to the first-generation Transit Connect Wagon, which topped out at just 13 percent of total nameplate sales in 2013.
The top five retail markets for Transit Connect and Transit Connect Wagon this year are New York, Los Angeles, Washington, D.C., Boston and Chicago.
The first-generation wagon, a five-passenger vehicle, was first sold in the United States as a 2010 model.