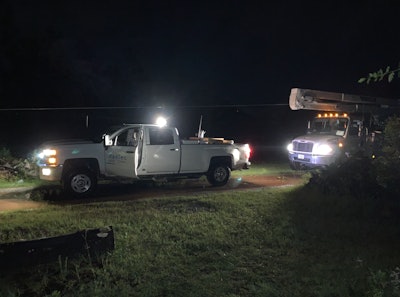 Tom Quimby
I had been writing about work trucks earlier that day just hours before Tropical Storm Fred made landfall. Little did I know that two work trucks would be showing up later that night to restore power in our neighborhood just north of Panama City, Fla.
Fred brought strong wind and rain, some of which I captured on video below. Our backyard was flooded and rising water nearly entered my son's car (you'll see both of us scrambling to get it to higher ground during the deluge). Strong winds blew over our old chestnut tree which knocked out power for us and our neighbors.
We expected to endure a night of miserable heat and humidity until those glorious trucks showed up from Gulf Coast Electric Cooperative around 10 p.m. A Chevy Silverado 2500 and a Freightliner equipped with a Terex bucket rolled down our flooded dirt road and stopped just short of the old tree which blocked the road and kept our own trucks confined to the pole barn.
Those linemen didn't waste time in getting their chainsaws out and showing that tree who's boss. We ended up with more firewood that joined our massive stockpile from Cat 5 Hurricane Michael in 2018. It's not like we need a lot of firewood in Florida, but it can come in handy.
In a short amount of time, those power lines were airborne again and with that came the angelic sound of air conditioners humming back to life in our rain-whipped neighborhood. Who knows when the next storm's coming, but when it does, we can rest assured that our local utility will get to work quickly to get the lights back on.