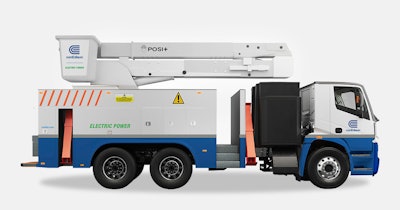 While we've seen bucket trucks with battery-powered PTOs, an all-electric bucket truck that's being built for use in New York looks to be the nation's first.
Con Edison reported that it's partnered with Lion Electric and Posi-Plus to develop "the country's first all-electric bucket truck capable of performing the full range of work that electric utilities require of such vehicles."
The Class 8 truck dual-axle cabover is being designed to lift line workers and equipment as high as 60 feet for construction, maintenance and repair work in New York City and Westchester County, N.Y.
The truck will reportedly have a range of 130 miles and will be charged in roughly eight hours using two Level 2 chargers.
[Related: Pros and cons of commercial electric vehicles]
Con Edison expects to take delivery of the truck in early 2022. If it proves successful in a pilot, more such trucks will follow.
"Medium- and heavy-duty trucks are more challenging to electrify than cars, but the purchase of our first all-electric bucket truck shows the market is real today and it will only accelerate from here," said Con Edison Chief Executive Officer Tim Cawley. "While initially small in scope, this represents an important step in Con Edison's journey toward fleet electrification."
As of last year, every new light-duty vehicle that Con Edison buys is a plug-in hybrid or all-electric. The company is exploring a range of technologies to reduce its fossil fuel use in medium- and heavy-duty vehicles.
[Related: Is the EV charging infrastructure better than we think it is?]
Con Edison has one of the nation's largest incentive programs to cover costs for bringing electrical service from the grid to electric vehicle (EV) chargers, with a goal of 18,500 Level 2 chargers and 450 fast-chargers across its service territory by 2025.
In a first for New York State, electricity recently began flowing from batteries inside electric school buses back onto the grid, as part of a demonstration project focused on vehicle-to-grid technology. The vehicle-to-grid capable e-buses for that project were also supplied by Lion Electric.
In another pilot project, Con Edison and New York City will soon begin installing 120 curbside charging plugs, making it easier for electric vehicle drivers to charge up away from home.
Closer Look Q&A with Con Edison's Chief Automotive Engineer Fortunato Gulino
HWT: Why is Con Edison opting for an eight-hour charge versus a fast-charge for its all-electric utility truck? Will you be charging during off-peak hours?
Gulino: Using Level 2 chargers, we'll be able to charge the vehicle using equipment we already have available. We'll install fast-chargers as needed as we adopt more all-electric heavy-duty vehicles in the future. We'll charge the bucket truck during off-peak hours whenever possible.
HWT: What do you anticipate maintenance to be like with the all-electric utility truck versus conventional?
Gulino: We anticipate that overall maintenance will be easier with the all-electric vehicle thanks to the design differences compared to a conventional truck. For example, an internal combustion engine has engine oil and filters to maintain, but these do not exist in an all-electric vehicle.
HWT: Does Con Edison have any electric or hybrid vans or pickups? If not, any plans to purchase some soon?
Gulino: Con Edison uses a wide range of alternative fuels in its fleet, including compressed natural gas, bio-diesel and electricity. We currently own one all-electric van and are exploring opportunities to electrify other vehicle types.
HWT: More electric pickup manufacturers are emerging including Lordstown, Ford and Rivian. Any favorites?
Gulino: We'll monitor the market as it develops and determine which vehicles offer us the best combination of cost and quality. That's our obligation to our customers. Competition among the growing pool of electric vehicle manufacturers will be to the benefit of Con Edison and our customers.
HWT: As EVs grow in popularity, any concern about meeting increased power demands?
Gulino: The expected proliferation of EVs will undoubtedly add to our electric load. With our robust, strategic investments into our energy-delivery system and long-sighted planning, we will meet that additional load and keep our service reliable. We invest more than $1 billion each year into our system to meet summer peak load (this summer the figure will be closer to $1.45 billion). Our SmartCharge NY program incents drivers to charge off-peak, which will help to mitigate the impact of electric vehicles on our system. We are highly supportive of EV adoption because of the economic and environmental benefits they bring.