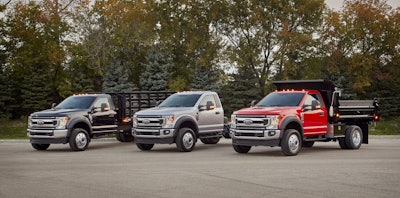 New for the 2021 model year Ford is adding power takeoff (PTO) provisions for its F-600 truck on both gasoline and diesel powertrains.
The F-600 features a Ford TorqShift 10-speed automatic transmission, which comes with a 10-bolt design live PTO provision standard on both the 7.3-liter V8 class-exclusive gasoline and 6.7-liter V8 diesel powertrains.
The PTO provision works with aftermarket power takeoff units to drive auxiliary equipment anytime the engine is running, either in stationary or mobile mode at any vehicle speed. In stationary mode, it is rated to handle up to 300 lb.-ft. of torque. F-600 equipped with the diesel engine offers split-shaft PTO capability that makes it possible to run two pieces of auxiliary equipment at the same time when the vehicle is stopped.
F-600 – in its second year of production and slotted between F-550 Super Duty and F-650 Pro Loader Medium Duty truck –uses higher-capacity wheels and tires, upgraded driveshaft mounts, an upgraded rear axle, more robust brake rotor materials and strategically placed frame reinforcements behind the cab to deliver Class 6 capability in a compact Class 5 package. It features the familiar size, interior and controls of an F-550, with a step-up height only 3 millimeters higher.
Ford Commercial Truck brand Manager Nathan Oscarson said customers for many years have spec'ed all possible upgrades on the F-550 chassis cabs to avoid stepping up to a traditional Class 6 truck, "but they've still pushed the limits of what a Class 5 truck can do," he said. "Now those fleets are moving into F-600 to get the increased payload and GCWR they've needed all along in a truck that fits."
With the available 6.7-liter V8 Power Stroke diesel engine, F-600 delivers gooseneck towing capacity of 34,500 pounds and a maximum GCWR of 43,000 pounds. The third-generation diesel features enormous low-rpm output to get truly heavy loads underway, with 330 horsepower and 825 lb.-ft. of maximum torque at 2,000 rpm. As a result, customers can equip their F-600 with heavier bodies and equipment.
F-600 is available in regular cab configuration with a choice of four wheelbases, two-wheel or four-wheel drive and three fuel tank configurations. It's ready to accept a wide range of upfits, with six factory-installed overhead upfitter switches, a programmable upfitter interface module, and the same cab-to-axle dimension as F-550.
Connectivity comes standard on F-600 thanks to a 4G LTE embedded modem that provides an available Wi-Fi hotspot for up to 10 devices. The modem also facilitates the use of Ford Telematics from Ford Commercial Solutions, so fleet customers can monitor their fleets with GPS tracking and geofencing, get live vehicle health alerts to plan and limit downtime, set reminders for vehicle service, analyze driver behavior and help manage fuel usage to potentially reduce costs. By taking advantage of the F-600's built-in modem, there is no need for additional aftermarket hardware, third-party management or installation downtime.
Ford Commercial Solutions also offers Ford Data Services, which provides OEM-grade data from Ford commercial vehicles for integration with proprietary software or existing authorized telematics providers, without the need for third-party plug-in devices.
Production of the 2021 F-600 is underway at Ohio Assembly Plant and Kentucky Truck Plant.