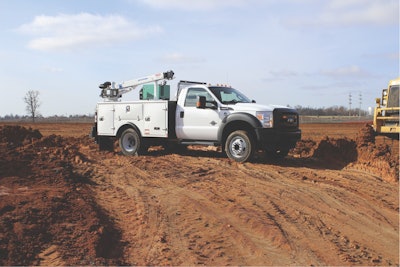 Altec's latest fiberglass truck bodies trim weight and offer increased payload and fuel efficiency.
"Our industry continues to see a strong demand for lighter bodies that maximize payload while decreasing fuel consumption" says Justin Chandler, Altec Sales Manager. "With this in mind, we've strategically designed composite bodies that meet the needs of our customers and their various work applications."
Altec's fiberglass Service Crane Truck (shown above) is modeled after the existing Mobile Service Truck used by Altec Service Group. The truck features an integrated steel crane support structure, master body locking system, boom support and fiberglass shelving.
Altec's new low clearance, fiberglass enclosed body is designed to maximize interior height for greater storage. The enclosed body has a lower profile for parking garages and incorporates Altec's integrated core material, dropping excess weight.
An integrated, lightweight composite core material is manufactured with cross-linked polymer foam and fiberglass which Altec says offers superior strength, increased payload and fuel-efficiency.
"Patented, integrated core material makes Altec fiberglass bodies the lightest and strongest in the marketplace," Altec states on its website. "Industry-leading support, warranty and manufacturing processes result in a product you can trust."
Altec truck bodies are available in steel, aluminum and fiberglass.
"Because we offer all three industry materials, we don't have a bias," says Chandler. "Altec provides the best solution for our customer's needs, whether it's weight, cost or corrosion that is most important."
Altec offers single source manufacturing and installation with complete engineering integration of the body, chassis and mounted equipment. From concept to delivery, customers can work directly with Altec in all aspects of purchasing and owning a service truck. From financing, training and maintenance to disposal, Altec handles it all.