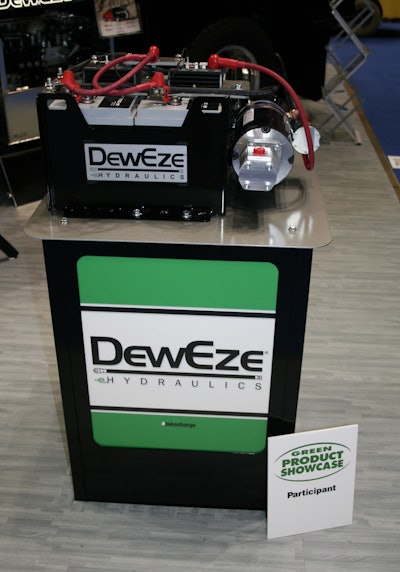 Bucket trucks can quickly go green by adding a no-idle, battery-powered hydraulic system from DewEze.
DewEze vice-president and national OEM sales manager Dennis Roberts unveiled the new system this week at The Work Truck Show in Indianapolis.
"In the telecommunications market, the electrification of the truck is big," Roberts explained while showing Hard Working Trucks the new system at the DewEze booth.
"It's aimed towards the utility truck market for the small bucket trucks that are typically like a 37-footer."
The system fits into any tail shelf frame rails and can be installed in minutes, Roberts said. A 24 x 16.5 x 11.5 inch steel cabinet houses a 12-volt motor, two 100/110 amp class batteries and a charge monitoring system to power the truck's hydraulics.
"We're able to produce about 1.9 gallon per minute for an extended amount of time throughout the day," Roberts said.
Hydraulics on average are used about 36 minutes a day, according to Roberts.
"We can give them about 60 to 75 minutes of continuous use without having to recharge the batteries. So we've got more than a day's worth of power even if they never did start the truck," he said.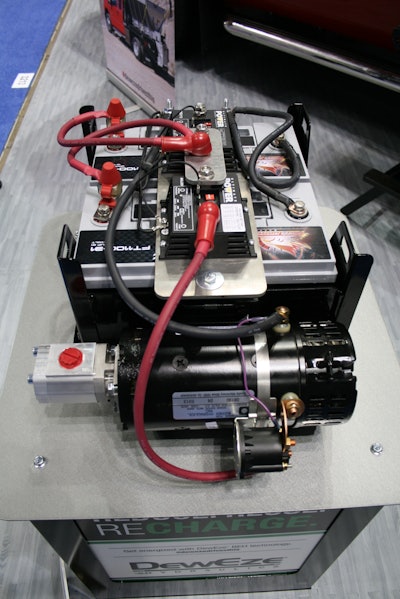 Of course, driving the truck in between jobs tops off the batteries so that by the end of the day they're still charged and ready to work.
Battery options include AGM (220 amp hours) or lithium ion (200 amp hours). Investment return on AGM is about two years, while payback on lithium is about 3 ½ to 4 years, Roberts said.
"The benefit that the lithium gives you is that the typical life cycle on these AGM batteries is like 500 cycles. On the lithium it's about 5,000."
Roberts noted that the AGM batteries have roughly a two-year life span while lithium will last about five to seven years.
Cost for the AGM system is about $3,000 while the lithium version is roughly $4,375. Visit deweze.com for more information.