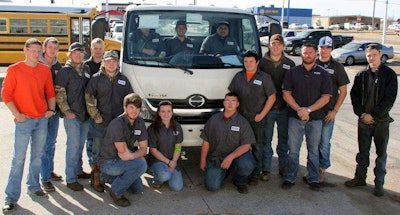 Hino Trucks recently donated a cabover truck to Canadian Valley Technology Center, a vocational school located outside of Oklahoma City. As a result of the May 31, 2013 El Reno tornado, CV Tech lost several vehicles that were used as teaching tools in various repair-related programs.
Three large diesel trucks were destroyed within the Diesel Technology shop on the east edge of CV Tech's El Reno campus. Officials at Hino Trucks saw national media reports depicting the devastation. They saw the diesel trucks left in utter disrepair, and sought to help.
"The donation of this vehicle supports one of Hino Trucks core missions to strive to contribute to local communities in all the regions where we do business," said Joseph Whalen, human resources manager at Hino Trucks. "We're aware that CV Tech's campus was destroyed by the tornados last year. While this truck won't help rebuild the campus, hopefully it will be a useful learning tool for the program."
"The generosity of Hino Trucks is appreciated and it allows our teachers to use a new truck and piece of technology to do real-time, real-world training right now," Dr. Greg Winters, superintendent at CV Technology Center, said. "This truck is equipped with hydraulic disc brakes, so our students will have a learning tool that we did not have before. The donation helps us keep the Diesel program up to speed."
Hino Trucks, a Toyota Group Company, assembles, sells, and services Class 5-7 commercial trucks in the United States. Headquartered in Novi, Michigan, Hino boasts a network of over 200 dealers nationwide.