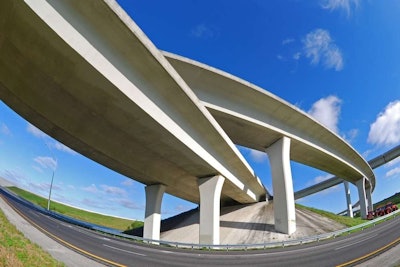 Support for a new highway bill, for building out the natural gas fueling infrastructure, for improved truck fuel efficiency and even for a truck fleet CEO, all were mentioned in President Barack Obama's State of the Union address Tuesday day night – briefly. Very briefly.
Additionally troubling to those hoping for substantial new transportation funding initiatives, the president instead re-offered a corporate tax reform plan that's gained little traction and otherwise called on the divided Congress to fill any gaps, should his newly proposed set of unilateral administrative actions come up short.
"Both Democrats and Republicans have argued that our tax code is riddled with wasteful, complicated loopholes that punish businesses investing here, and reward companies that keep profits abroad. Let's flip that equation," Obama said. "Let's work together to close those loopholes, end those incentives to ship jobs overseas, and lower tax rates for businesses that create jobs right here at home.
"Moreover, we can take the money we save from this transition to tax reform to create jobs rebuilding our roads, upgrading our ports, unclogging our commutes — because in today's global economy, first-class jobs gravitate to first-class infrastructure. We'll need Congress to protect more than 3 million jobs by finishing transportation and waterways bills this summer. That can happen."
For his part, the president promised to act on his own "to slash bureaucracy and streamline the permitting process" for key projects, to get more construction workers on the job "as fast as possible."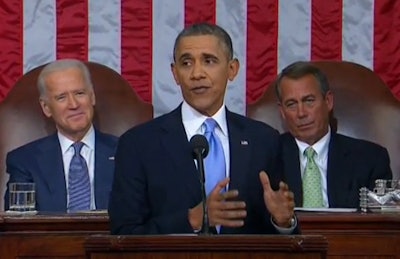 He also cited the "commitment to American energy" as a key factor in recent and future job gains, as well as in moving the nation "closer to energy independence than we have been in decades."
Obama called natural gas "the bridge fuel that can power our economy."
"Businesses plan to invest almost a hundred billion dollars in new factories that use natural gas," Obama said. "I'll cut red tape to help states get those factories built and put folks to work, and this Congress can help by putting people to work building fueling stations that shift more cars and trucks from foreign oil to American natural gas."
Similarly, Obama touted his administration's record of working with businesses, builders and local communities to reduce energy consumption.
"When we rescued our automakers, for example, we worked with them to set higher fuel efficiency standards for our cars," he said. "In the coming months I'll build on that success by setting new standards for our trucks so we can keep driving down oil imports and what we pay at the pump."
And, in recognizing the achievements of exemplary Americans, the first presidential guest cited was Andra Rush, a Native American and founder, chairman and CEO of Rush Trucking Corp., of Wayne, Mich. But the president didn't mention the 700 tractor fleet: The Rush Group family of companies also includes Detroit Manufacturing Systems, which the president praised for creating more than 700 new jobs as the auto industry recovered.
"What Andra and her employees experienced is how it should be for every employer and every job seeker," Obama said.
Trucking industry leaders, along with other groups representing transportation interests, generally expressed disappointment with the lack of a specific plan to rescue the failing fuel tax system that pays for road maintenance and public transit projects.
"While we appreciate President Obama making reference to the need for infrastructure investment, we remain disappointed in the continued lack of specificity when he discusses funding," American Trucking Associations President and CEO Bill Graves said. "While it is critically important to the nation that Congress and the administration come together on a multiyear highway bill this year, we believe that until the administration puts forward a serious, user-based funding proposal we will risk going over the Highway Trust Fund 'fiscal cliff' in the near term and be woefully underfunded to meet the longer term needs of the nation."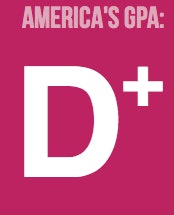 Added ATA Chairman Phil Byrd, president and CEO of Bulldog Hiway Express, "It was an honor to attend the State of the Union, but the president's proposal was sorely lacking in details and comes up short of what the nation needs to maintain our economic competitiveness."
The American Society of Civil Engineers, in its 2013 Report Card for America's Infrastructure, gave the nation's infrastructure a "D+" grade, and ASCE President Randall S. Over called for action, pointing out that maintaining and modernizing the nation's transportation system is "one of the essential roles of government."
"Tonight, President Obama reminded us all that 'America does not stand still.' Regrettably, for too long, the same cannot be said of America's infrastructure," Over said. "For America's roads and bridges, 2014 must become a 'year of action.' If we cannot find a solution for the impending insolvency of the Highway Trust Fund, state transportation departments will face huge cuts in capital funding by the end of this year and fall farther behind with a growing backlog of projects."
Similarly, Patrick Jones, executive director and CEO of the International Bridge, Tunnel and Turnpike Association, called on lawmakers and the administration to give states "maximum flexibility" to meet their transportation funding needs, including the use of tolling on the existing Interstate highway system.
"While we respect the president's willingness 'to create jobs rebuilding our roads,' we know that no one source of revenue can be sufficient to build, maintain, and reconstruct our nation's bridges, tunnels, and highways," Jones said. "Now is the time for Congress, the president, and other elected leaders to seriously consider all options to meet our country's transportation funding needs. Tolling is one of the most powerful, effective, and proven tools in the funding toolbox."
Politicians can read polls, of course, and a comprehensive, long-term transportation improvement program isn't high on the voting public's list of priorities.
The Pew Research Center's annual survey of policy priorities, conducted Jan. 15-19, finds that the public's agenda continues to be dominated by the economy (80 percent top priority), jobs (74 percent) and terrorism (73 percent).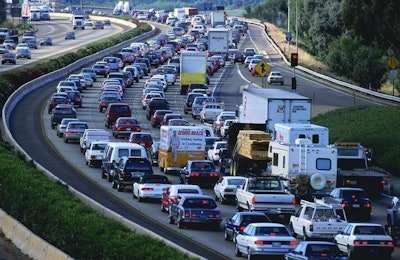 Improving roads, bridges and public transit comes in at 39 percent, which is up from 30 percent a year ago for the largest gain in the poll, but infrastructure is still ahead of only the two lowest-rated priorities: dealing with global warming (29 percent) and dealing with global trade (28 percent).
The public's faith in Congress is on an upswing, however.
While last month just 5 percent of Americans gave lawmakers positive marks for the job they were doing, this month that number has climbed: 6 percent now give Congress positive ratings, with only 94 percent giving them negative ones, according to latest results of The Harris Poll of adults surveyed online Jan. 15-20.