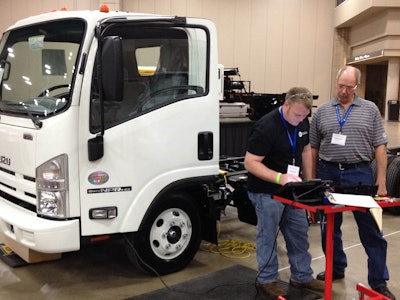 The 2013 Rush Truck Center Tech Rodeo kicked off Sunday in San Antonio with a paint and body repair challenge. The event continues through Tuesday when the Texas-based dealership group will crown its top heavy- and medium-duty technician.
Monday began the round for engine techs seeking a share of $20,000-plus in prize money.
Technicians were given 45 minutes to find and diagnose complaints on a variety of heavy- and medium duty units. Contestants are asked to find the reason the engine won't start, not necessarily make the repair.
Lance Kilburn, of Rush Truck Center – Atlanta, diagnosed the International DuraStar assigned to him with a fuel failure in approximately 30 minutes.
Kilburn, a three year technician veteran who's been with Rush for 15 months, says – given the option – he prefers working on the medium-duty units.
"It's a personal preference, really," he says. "I work on both but I like (medium-duty) more. It's just my forte. "Everybody's got their little knack, I guess."
[youtube jgmm_JiF_sQ nolink]
Kilburn says the smaller engines share many of the same basic concepts with their larger counterparts.
"They do it a little differently, especially the newer DTs and the newer 13 (liters)," he says. "They pretty much do everything about the same, they're just scaled down."
Gary Fassett, of Rush Truck Center – Twin Falls (Iowa), also works on both medium and heavy-duty engines, and he's no stranger to competition. He also diagnosed a fuel pump failure on his International unit just before time expired.
The 10 year career technician is in his fourth Rush Rodeo, and competed on the heavy-duty side last year.
Fassett and Kilburn are two of six International medium-duty technicians hoping to make it to the finals tomorrow, where they will be guaranteed at least $3,000 in prize money.
Eight medium-duty techs will compete in the finals Tuesday. Doraville's Mark Smith and Dallas's Steven Brain will work from a Hino platform. Fassett and Kilburn will be on an International unit. Chris Wiliams, from Denver, and Gavin Mathews, of Atlanta, will work from an Isuzu platform and Mark Jones, of Denver, and Trinidad Garcia, of Escondido, will work from a Peterbilt.
Winners will be announced Tuesday night.
Results of the combined two day competitions for Refuse, Go Green, Bus, Body Repair and Body Paint will be announced at the Awards tomorrow night.