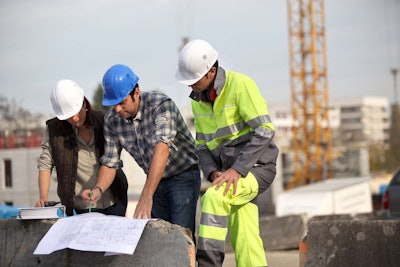 Skilled labor shortages in various markets are pushing up wages and subcontractor rates, this as real estate shows sign of recovery and manufacturing continues to grow, according the recent economic surveys from the Federal Reserve, the Associated General Contractors of America and the National Association of Home Builders.
• The Fed's latest regional economic survey, known as the Beige Book, suggests that national economic activity continued to expand at a modest to moderate pace from late November through the end of the year. The economic outlook is positive in most of the central bank's 12 districts, with some reports citing expectations of "more of the same" and some expecting a pickup in growth.
"Our local economy looks better all the time," noted a Minnesota commercial construction firm representative.
And in the Dallas district, acute labor shortages were reported for auditors, engineers, construction workers and truck drivers, putting upward pressure on wages.
More broadly, real estate markets generally continued to improve, according to the district reports. Although a few districts indicated home sales or residential construction in some areas had slowed or declined in recent months, most cited increased residential sales activity and construction as well as rising home prices.
Commercial real estate reports were positive as well, with commercial construction generally increasing.
Reports on transportation services were generally positive. Logistics contacts in the Atlanta district reported expansion in the movement of industrial and healthcare-related goods. One contact in the Philadelphia district observed "booming" growth for most modes of transportation. In contrast, transportation companies in the Kansas City district reported a slight decrease in business activity in recent weeks.
In manufacturing, reports also generally painted a picture of steady growth. All but one district reported both growing sales and an optimistic outlook.
Three-quarters of the districts indicated that retail activity had increased since the last Beige Book report. The exceptions were St. Louis and Kansas City, where retail results were mixed, and the Richmond District, which cited a softening of retail sales.
The eight districts reporting on energy indicated that activity continued increasing; Cleveland and Atlanta cited robust growth in the energy sector. Reports on agriculture were also mostly positive.
According to the reports that mention banking, loan volumes have not changed substantially since the last reporting period.
The Fed's survey, broken out by industry and district, is here.
• Indeed, many firms plan to start hiring again and most contractors predict demand will either grow or remain stable in virtually every market segment this year, based on survey results released this week by the Associated General Contractors of America.
The AGCA survey, conducted as part of Optimism Returns: The 2014 Construction Industry Hiring and Business Outlook, provides a generally upbeat outlook for the year even as firms worry about growing worker shortages, rising costs and the impact of new regulations and federal budget cutting.
"Contractors are more optimistic about 2014 than they have been in a long time," said Stephen E. Sandherr, the association's CEO. "While the industry has a long way to go before it returns to the employment and activity levels it experienced in the middle of the last decade, conditions are heading in the right direction."
Along with increased hiring, nearly three-quarters of the responding contractors expect to purchase new equipment this year and 86 percent expect to lease new equipment.
While the outlook is significantly more optimistic than in years past, there are still areas of concern for most contractors, the survey notes. Many expect to pay more for materials and supplies, and health care costs continue to rise for every firm. Nearly two-thirds of respondents report they are already having a hard time finding qualified workers to fill key positions and they expect workforce conditions to remain tough, or get tougher, in the next twelve months.
Many firms also report their operations will be negatively impacted by new federal regulatory requirements dealing with wetlands, silica protection and human resources paperwork requirements.
The full AGCA outlook is available here.
• Builder confidence remains solid, despite a downtick in the National Association of Home Builders/Wells Fargo Housing Market Index.
Confidence in the market for newly built, single-family homes fell one point to 56 in January from a revised December reading of 57 on the index.
"Following an unexpected jump last month, builder confidence has essentially leveled out and is holding at a solid level," said NAHB Chairman Rick Judson, a home builder from Charlotte, N.C. "Many markets continue to improve and this bodes well for future home sales."
Derived from a monthly survey that NAHB has been conducting for 25 years, the HMI gauges builder perceptions of current single-family home sales and sales expectations for the next six months as "good," "fair" or "poor." The survey also asks builders to rate traffic of prospective buyers as "high to very high," "average" or "low to very low." Scores for each component are then used to calculate a seasonally adjusted index where any number over 50 indicates that more builders view conditions as good than poor.
All three HMI components declined in January. The index gauging current sales conditions edged one point lower to 62, while the index gauging expectations for future sales fell two points to 60. The index gauging traffic of prospective buyers fell three points to 40.
"Rising home prices, historically low mortgage rates and significant pent-up demand will drive a continuing, gradual recovery in the year ahead," said NAHB Chief Economist David Crowe. "However, the pace of the recovery could be stronger were it not for rising construction costs and inaccurate appraisals that are keeping some home sales from going through."
Looking at the three-month moving averages for regional HMI scores, the Northeast and West each rose four points to 42 and 63, respectively, while the South held steady at 56. The Midwest fell a single point to 58.