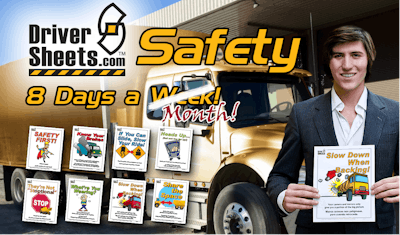 DriverSheets.com introduces a new weekly and bi-weekly safety poster subscription program for fleets hoping to protect their trucks, drivers and insurance rates.
DriverSheets operates on the premise that safety posters are forgotten after a week or less. After designing more than 1,000 driver safety posters over the past seven years, the company says it has found most posters contain too much information – too many words and rarely catch the attention of their intended audience.
Posters from DriverSheets focus on a new safety topic each month, with short, easy-to-remember messages that keep driver safety top-of-mind. In addition, DriverSheets says it sweetens the pot by offering monthly contests and prizes to keep drivers engaged.
With pricing starting at $17.47 a week, DriverSheets provides a foundation to any new or existing safety program. Plus, the company says subscribers can add Spanish or French translations, or their own company logo, for a nominal fee. Posters are delivered electronically, allowing subscribers to print or email these 8.5 in. by 11 in. messages. This provides flexibility, instant access and saves shipping and handling costs.
Designed by serious safety experts, qualified trainers and talented designers, DriverSheets says it targets specific safety topics, providing 4 or 8 posters each month focusing on topics such as: pedestrians, personal safety, personal protective equipment, CSA 2010, backing safety, avoiding rear collisions, rollovers, safety best practices, bad weather, slips, trips and falls, railroad crossings and extreme weather conditions.