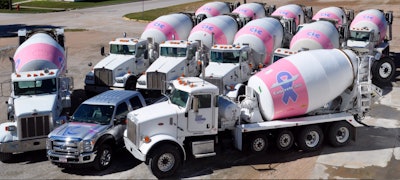 Ahead of this year's edition of the Five Flashiest Fleets contest at Randall-Reilly sister publication Commercial Carrier Journal, Hard Working Trucks takes a peek at several of the local, specialty fleets that entered. In a field stacked with eye-popping designs aimed at drawing attention to a corporate brand, Kearney Concrete Co. of Kearney, Neb., sets itself apart: The focus of a recent fleet makeover is a cause and the community, not the company.
The cause: Concrete Cares is a nationwide initiative bringing together local coalitions of concrete associations, business and individuals to identify a local unifying project; then to place decorative concrete to draw attention to that need. Simply, the aim is to provide the materials, labor, and talent to create a showpiece. The industry goal is to place decorative concrete in all 50 states.
The company: Kearney Concrete, a family-owned business, has been providing concrete to the south-central Nebraska area since 1956. Dispatch Manager Kyle Poff knows Concrete Cares founder Mike Murray, who's from just across the state line in Kansas, through area trade events and Poff wanted to support the program.
He checked with his boss and father, Stan Poff, and decided the company's fleet could use a touch of pink.
Poff started with a call to the local body shop, but got the impression they weren't really interested in the graphics work. Then two or three weeks later, the shop called wondering where the trucks were.
"I said, 'You haven't given me a number yet. My boss isn't going to let me blow 40 grand painting trucks,'" he recalled. "But then he says his guys are donating the labor and he's got somebody to donate the paint."
And that got the ball rolling or, more appropriately, the mixers spinning. (Poff offers a special shout-out to Bobby Turner at Turner's Body Shop and Ryan Johnson at NAPA Auto Parts in Kearney.)
"I thought maybe we'd have some big, tough truck driver that didn't want to drive a pink truck," Poff says. "But the biggest argument was who was getting a pink one first."
The partnership also led to a community Fun Day, with Poff wanting to recognize Turner and NAPA and highlight Breast Cancer Awareness Month. With the help of Jereme Montgomery of the Nebraska Concrete and Aggregates Association, state involvement in the Concrete Cares program kicked off Sept. 29 with a fundraiser in Kearney that raised $4,000 for area cancer victims and survivors.
Poff points out that his entire crew volunteered to work the event. "I thought that was impressive."
Also planned, with the help of local contractors, are a couple of pink concrete ribbon installations around the town, as well as an architectural project at the Healing Garden, part of the cancer center at the local hospital.
As for any company looking to get involved in similar projects, Poff emphasizes "communication" – and notes that he's never made a sales call in his life, so a belief in the cause is what's truly persuasive.
"Talk to your community. When we decided just to have a party when the trucks were done, I called about 30 different people who had something like the jump house for kids, and the beauty school which does the nail painting, the band," he says. "I called around on a Thursday morning before Labor Day, and by the time I got to the lake on Friday every one of the 30 I called had committed. The community just got on board."
And after email blasts to building association members, Poff had a crowd as well.
"Kearney Concrete's got a good standing in the community. We do a large portion of the residential construction, and we hold our own in the commercial market. We didn't have a big logo on our drums. So the recognition issue wasn't huge for us," Poff says. "This was just something we were able to do to bring attention to what's important."