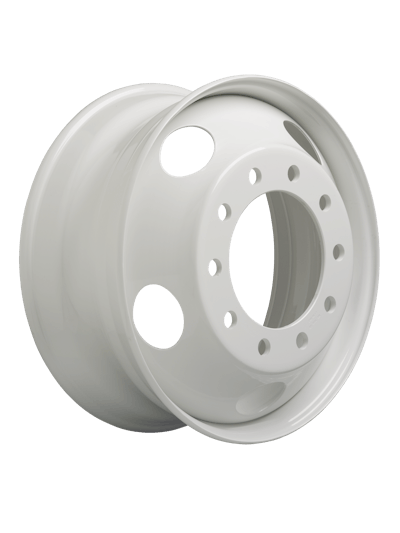 Accuride Corporation introduced Tuesday a new three-phase steel wheel coating process called Steel Armor for its commercial vehicle wheels.
The new Steel Armor powder coating technology employs a proprietary protection process that improves the look and life of steel wheels, Rick Dauch, Accuride President and CEO says, adding Steel Armor can save fleets upwards of $630 per truck by deferring wheel refinishing costs, and extend steel wheel service life by up to two years compared to standard coatings currently in use in the industry.
Craig Kessler, Accuride Vice President/Engineering, told our sister site, Truck Parts & Service, Steel Armor's sharp-edge protection provides reduced corrosion on wheel edges, where rust tends to form first, including flanges, hand holes, bolt holes and hub holes on stud- and hub-piloted steel wheels.
Kessler says Steel Armor inhibits the growth of corrosion by blocking rust at the point of entry when gouges, chips, scrapes and scratches expose the metal.
Accuride says it will convert to 100 percent steel powder coated wheels in early 2014, with Steel Armor becoming the company's standard going forward. There will be no additional up-charge for Steel Armor coated wheels, the company said Tuesday.
Accuride says it exposed Steel Armor coasted wheels to 12 wide ranging corrosion performance tests beyond traditional industry testing standards, including industry-standard salt spray and chip resistance tests, plus exacting cyclic corrosion testing methods commonly used in the automotive industry that are better able to determine product performance in strenuous road and climate conditions, such as UV transmission and Xenon testing.
Steel Armor coated wheels will be available in January.