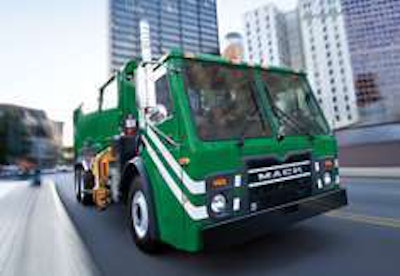 Anyone who suspects natural gas trucks are just a fad need look no further than the refuse hauling industry to be convinced otherwise. From small, municipal operations to giant, national corporate fleets, natural gas trucks are increasingly becoming the standard. Not only do the trucks help deliver the critical message of sustainability to the public, as an essential operational component natural gas-powered trucks simply work, and work well.
At the top end of the business, Waste Management's fleet features 32,000 collection and support vehicles, with 18,000 of those being heavy duty refuse haulers. Natural gas trucks make up about 15 percent of the fleet, and the number is growing rapidly: Last year, 80 percent of the new trucks WM ordered were powered by natural gas; this year, that's expected to be 90 percent, reports spokeswoman Jennifer Andrews.
The push came with a set of sustainability goals set in 2007, including reducing the fleet's emissions by 15 percent and improving efficiency by 15 percent by the year 2020. Done and done already, thanks in no small part to increased use of natural gas.
"It's happening in this industry," she says. "The trucks save money on fuel, they're less expensive to maintain, they're quieter and they produce less emissions. They're good for operations, the community and the environment – it's just a win-win all around."
By the numbers, for each diesel truck produced in 2006 or earlier that WM replaces with a natural gas one, the company sees an average annual reduction of 8,000 gallons of diesel and 22 metric tons of greenhouse gases.
The company uses both LNG and CNG trucks, with CNG getting the nod going forward because of easier maintenance, Andrews adds. Similarly, WM has experimented with hybrid vehicles, but has yet to find a solution suitable to the heavy-duty rigors of refuse hauling.
RELATED: Going green and saving green
As for the essential fueling infrastructure, this summer WM opened its 50th natural gas fueling station. And, as the operator of landfills across the country, WM is a natural gas producer as well, with several of its sites capturing methane for use as fuel for its trucks.
Just last month, the company announced it is building a facility that will create pipeline-ready natural gas from a landfill in Illinois. The facility will be designed to process approximately 3,500 standard cubic feet per minute of incoming landfill gas, equivalent to 105 million British thermal units per hour. This is as much gas as it takes to fuel about 400 of Waste Management's CNG collection trucks each day and represents more than ten percent of the natural gas that is used in the company's entire existing CNG fleet.
"We're just really pleased with the results of our natural gas strategy, and we're just going to continue doing what we're doing," Andrews said.
And truck manufacturers will continue to build the vehicles their customers demand. While refuse trucks make up only about 3 percent of the North American heavy-duty market, they've long been an important and key segment for market leader Mack Trucks, says Curtis Dorwart, Mack refuse product marketing manager.
"The refuse industry has reported that approximately 40 percent of refuse vehicles in operation are powered by natural gas, and from Mack's perspective, this mirrors the type of response from our customer inquiries," Dorwart says. "The natural gas market appears to be well established after several false starts in past years, driven strongly by the fuel price difference compared to diesel, emissions system simplicity, and a need for a clean and domestic fuel source. "
Mack currently offers the TerraPro Cabover and TerraPro Low Entry refuse models, both of which can be equipped with a range of Mack MP7 engines, as well as the Cummins Westport ISLG 320 natural gas engine.
"If trends continue, CNG may very well eclipse the sale of diesel units within the next five or so years," he adds, although Mack declined to specify its current mix.
RELATED: Refuse company adds 53 CNG trucks
Newly part of the trend is the City of Conway, Ark. When she spoke with Hard Working Trucks, Conway Sanitation Department Director Cheryl Harrington was anxiously awaiting delivery of the department's first CNG trash truck, a new Peterbilt 320 being prepped at the dealer.
The city sanitation and recycling fleet features about 40 trucks, serving a rapidly-growing community of 27,000 households. The 92-person department operates a landfill, which has been approved for expansion, and its recycling center was recently upgraded with a multi-million dollar investment in automated sorting machinery.
Like Waste Management, the city takes environmental sustainability seriously. And, with its operations paid for from a dedicated "enterprise fund," the sanitation department also must make its investments pay off.
So Harrington did the math, and calculates the $40,000 premium for a CNG truck will be easily recovered over its planned five-year run.
"Cost effectiveness is the biggest thing," agrees shop manager Danny Alford. "So it's smart business, but there are just a lot of benefits besides the fuel being cheaper: low emissions, a cleaner, quieter engine. There's a big push here in the city now that we have the capability to fuel them."
Alford refers to area fuel distributors who've added CNG pumps (the community is located at the edge of booming Fayetteville Shale natural gas play), but the department has plans to tap the landfill and produce its own fuel within five years, Harrington adds.
RELATED: CNG finding foothold in municipalities
She also notes that the city has budgeted for additional CNG trucks next year. Alford says he's made some changes in the shop already to be able to service the first truck, and he anticipates dedicated bays once the CNG fleet grows.
"We're pretty excited," Harrington says. "Once the truck gets here, we'll have stickers to show that it's a natural gas vehicle, to let the public know that we're trying to do right for the environment and all we stand for here at the city and in the department. I foresee a good future for us."