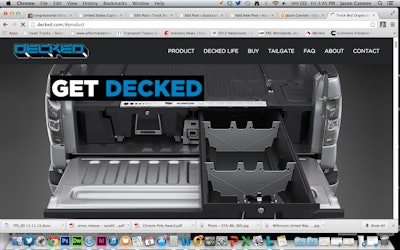 Decked, manufacturers of a new full-sized pickup truck bed storage solution, have launched a new website.
The site features a full description of the Decked storage system, specific vehicle applications, dealer locations and ordering information.
"The site shows the versatility of the system and the high quality that goes into all of our products," says Lance Meller, Founder and Vice President of Sales for Decked. "We are confident full-size truck owners will be able to find effective and affordable storage solutions on our site. This site embodies the passion we have for our product and encourages owners to live our motto of 'work smarter, play harder'."
Decked is a full-sized truck bed storage system that incorporates two bed-length drawers that roll out to provide easy access to tools, equipment and additional gear.
The deck of the storage system is built from recycled high-density polyethylene co-molded to a steel sub frame providing a 2,000 lbs. load capacity. The drawers can hold up to 200 lbs. each and are lockable to provide secure storage.
Each drawer can hold tools, parts and supplies, sporting goods, or just about anything that is normally stored in a truck bed. The system is weatherproof and the deck can be configured to accommodate tie downs or rack systems. The Decked system can be mounted in nearly every full size pickup truck made since the late 1990s and mounts to the truck bed's existing tie downs with no drilling required.