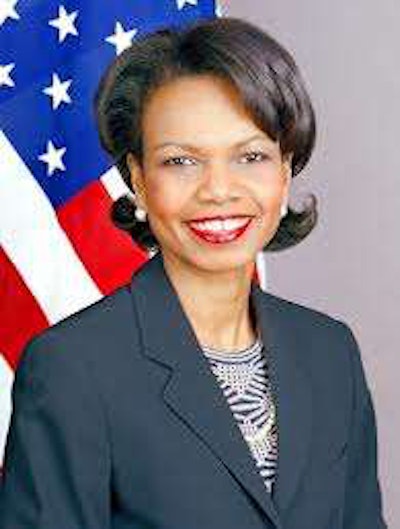 Former Secretary of State Condoleezza Rice will be the keynote speaker of The Work Truck Show 2014, and will be part of the President's Breakfast & NTEA Annual Meeting on Thursday, March 6.
The Work Truck Show 2014 is held March 5–7, 2014, at the Indiana Convention Center in Indianapolis, Ind.
Educational programming, including the Green Truck Summit, begins March 4. The Work Truck Show, North America's largest work truck event, is produced annually by NTEA, The Association for the Work Truck Industry.
"Condoleezza Rice has a diverse leadership background that will inspire our NTEA members and other Work Truck Show attendees," says Mark Woody, NTEA 2014 Convention chairman and president of Palfinger North America, (Niagara Falls, ON, Canada). "She follows in the footsteps of several high-profile leaders who have appeared at the President's Breakfast and NTEA Annual Meeting, including Presidents George H.W. Bush in 2004 and George W. Bush in 2012."
Appointed by President George W. Bush in 2005, Rice was the second woman and first African American woman to hold the post of Secretary of State, and served through January 2009.
Her political career also included serving as President Bush's National Security Advisor from 2001 to 2005 and National Security Council member under President George H. W. Bush from 1989 to 1991, where she served as Director, then Senior Director of Soviet and East European Affairs and Special Assistant to the President for National Security Affairs.
Rice's speech at The Work Truck Show will include insights from both the political arena as well as her educational and managerial career. Rice is a Professor of Political Economy in the Graduate School of Business, the Thomas and Barbara Stephenson Senior Fellow on Public Policy at the Hoover Institution, and a Professor of Political Science at Stanford University. She is a founding partner of the international strategic consulting firm RiceHadleyGates, LLC, and serves on the boards of KiORs a renewable fuels company; C3, an energy software company, and Makena Capital, a private endowment firm.
Rice previously served as Stanford University's provost from 1993 to 1999, overseeing 1,400 faculty members, 14,000 students and a $1.5 billion annual budget. She has authored and co-authored several books, including the bestselling "No Higher Honor: A Memoir of My Years in Washington" (2011) and "Extraordinary, Ordinary People: A Memoir of Family" (2010).
Registration for The Work Truck Show 2014 opens in October. The President's Breakfast & NTEA Annual Meeting will be held from 7:30 a.m. to 9:15 a.m. on Thursday, March 6. Tickets for the President's Breakfast are included in several registration packages or can be purchased separately.
For more information, visit www.ntea.com or call 1-800-441-6832.