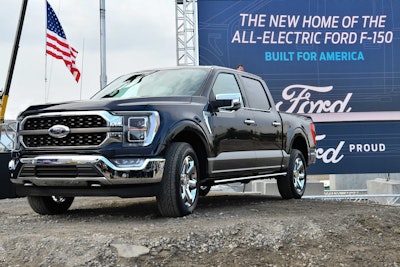 The business case for electric work trucks is growing as Ford reports a 40 percent reduction in maintenance costs for its new electric F-150.
Not only that, but it takes about half the money to power an electric vehicle versus filling up on gasoline, according to the University of Michigan's Transportation Research Institute. Savings like that can help ease the transition to electric powertrains which will require charging infrastructure, new tools, diagnostic equipment and technician training.
Low maintenance and low charging costs with electric vehicles are nothing new. However, taking that approach with the nation's most popular selling pickup may have fleets lining up this November as dealers kick off sales for the electric F-150 which is expected to roll-out in mid-2022.
"The critical launch of the all-new F-150 is now underway — on time and with the Built Ford Tough quality our customers demand to get the job done," said Jim Farley, Ford's chief operating officer and incoming CEO. "F-Series pickups are the backbone of work and productivity across the country. And now we are preparing to build a fully electric version of America's most popular vehicle, and it will be a seriously capable, purpose-built tool for serious truck customers."
Ford recently celebrated the ground-breaking of its new Rouge Electric Vehicle Center at its Dearborn-based Rouge Center which will serve as the site for EV battery assembly as well as production of its new F-150 PowerBoost hybrid and the all-electric F-150.
Though it's not revealing numbers, Ford reported that its all-electric F-150 will feature dual electric motors targeted to deliver more horsepower and torque than any F-150 available today, the fastest acceleration, and the ability to tow heavy trailers.
While no one disputes the phenomenal torque and acceleration of electric vehicles, duty cycle relative to battery life still raises concerns. Data is virtually non-existent regarding how well a battery-powered pickup will perform against conventional powertrains when it comes to towing and hauling.
Undoubtedly, major manufacturers who are investing heaps of money in electric pickups have answers, but at this point, they're not sharing.
Ford did release a video posted below that shows an electric F-150 test mule undergoing some testing which included towing and off-roading.
In the meantime, we'll just have to wait for the actual numbers.