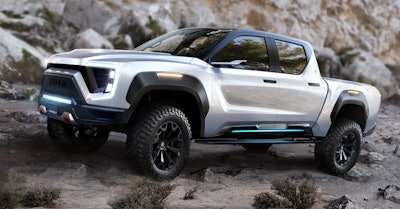 Paper or plastic? Or in this case, hydrogen or electric? Or both?
Either way, Nikola has broken free of the all-electric pickup trend with its 906-hp Nikola Badger which CEO Trevor Milton tweeted is "designed to take down the Ford Raptor."
Taking down Ford's trophy truck won't be easy which is why Milton has partnered with Diesel Brothers' Dave "Heavy D" Sparks who will design, build and test the Badger for millions to see on the popular reality TV show.
"Nikola has billions worth of technology in our semi-truck program, so why not build it into a pickup truck?" said Trevor Milton, CEO, Nikola Corporation. "I have been working on this pickup program for years and believe the market is now ready for something that can handle a full day's worth of work without running out of energy. This electric truck can be used for work, weekend getaways, towing, off-roading or to hit the ski slopes without performance loss. No other electric pickup can operate in these temperatures and conditions."
Sparks is pleased to have the chance to work with Nikola on building the prototype which is expected to be unveiled this fall at Nikola World.
"My audience, hard-core truck enthusiasts, has expected me to push the limits of truck power and capabilities since my beginnings," said Sparks. "Being able to pull back the curtain of a production truck build is a rare opportunity where we can include the everyday truck owner to participate in the final outcome of design, exterior choices and performance specs. I wanted to be part of that story and now I have the opportunity with Nikola."
It looks like the Badger will be either a Class 2 or 3 pickup based on the following statement: "With a fully loaded trailer and combined vehicle weight of 18,000 lbs., the Badger will be able to launch from a standstill on a 30 percent grade without motor stall," Nikola's press release states.
Time for a little math. Take the combined vehicle weight of 18,000 pounds (which under normal circumstances accounts for the weight of the trailer, vehicle and all contents and passengers), subtract the stated 8,000 lb. max towing and you've got a Class 2 10,000-lb. GCWR truck. Add a pound of bacon or whatever and it becomes Class 3.
The Badger will be outfitted with a 15-kilowatt power outlet for tools, lights and compressors, which is enough power to assist a construction site for approximately 12 hours without a generator.
The Badger was designed to handle 0-100 mph launches with minimal loss of performance and to operate on grades up to 40 percent through advanced software blending of batteries and fuel-cell.
"The Nikola Badger is a game changer. The program will help drive down the cost of the fuel-cell components on our semi-truck while accelerating the hydrogen station rollout. Giving customers the option to order a fuel-cell or battery electric version will ensure we drive the cost down for everyone across our lineup," said Mark Russell, president of Nikola Corporation.
New truck plans can make strange bedfellows. Sparks has built a successful TV show and businesses based on truck builds with high-performance diesel powertrains. Milton has not hidden his disdain for oil burners. Consider his comments last April at the Advanced Clean Transportation Expo in Long Beach, Calif:
"Hashtag diesel is dead. Emissions game over. We're tired of it," Milton told a large audience during the Expo's general session at the Long Beach Convention Center. "We need to fix a lot of the problems and change things. Other people are not going to do it unless they're forced to, so If that means we have to force them, it's about damn time."
In a video posted Monday by Milton on Twitter, Sparks acknowledges the challenges that his longtime propulsion of choice is up against.
"What I'm about to tell you is the single most important announcement of my entire career. Listen, the world's changing," Heavy D says. "Many cities and countries have started to put a ban in place on gasoline and diesel-powered vehicles. As truck owners, our trucks are our lifestyle, our livelihood, and our passion. And I for one refuse to be caught unprepared."
Special thanks to Milton for taking the time to answer some questions following the company's big news this week.
HWT: Do the current Badger photos posted on Nikola's website actually depict what the truck will look like at its reveal? Or should we anticipate changes?
Milton: The photos are very accurate. You'll be able to see the Badger in person at Nikola World in September. It will look nearly identical to what you see today as we are already kicking off parts.
HWT: What's the range while towing up to the stated max of 8,000 pounds?
Milton: 300 miles in BEV only; up to 600 miles in blended BEV/FCEV mode. Under full load it will be around 50% range so 300 miles just like a gasoline or diesel would be as well. With no load, 600 miles.
HWT: How can the truck maintain optimum battery temperatures?
Milton: The fuel cell takes away the majority of the current from the batteries. Batteries derate due to current rates. So continual use of high current ruins batteries so the software works to protect the batteries. With the Nikola Badger, you don't have that same de rate problem because the fuel cell can output continual power with no de rating since it is a battery. This takes a majority of the stress off the battery cells and allows them to function how they should with short bursts of power.
HWT: Will a regular cab be offered as well?
Milton: If you mean two-door, then no. Only 4-door.
HWT: Has Nikola secured a partnership with an OEM? If so, which one?
Milton: We will be announcing our OEM partner in the coming months. We wish we could talk more about it but the OEM wants the right to announce it.
Additional details on the Nikola Badger
Will be available in FCEV (Fuel-Cell Electric) or BEV (Battery-Electric)
Electric 0-60 mph in approximately 2.9 seconds
Truck can operate on FCEV / battery-blend or BEV mode at any given time
Badger can generate over 906 horsepower, 980 lb.-ft. torque and an estimated 600-mile range
Badger can drive 300 miles in BEV mode for those that do not have access to hydrogen
Badger will make its first appearance at Nikola World 2020; expected in September
Nikola is currently planning 700 hydrogen stations to give North America hydrogen coverage
Initial hydrogen station locations are finalized and will be announced this quarter
Limited reservations available in 2020. Sign up for updates at www.nikolamotor.com/badger