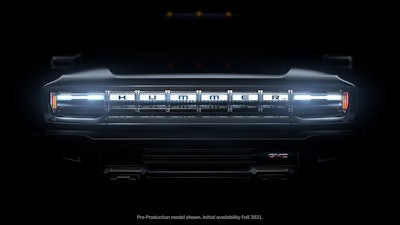 Looks like GMC will be reintroducing Hummer as an electric pickup.
GMC reported today that it will introduce an electric Hummer during the Super Bowl this weekend in an ad titled 'Quiet Revolution.' (Video posted below.) So far, the only image GMC has provided of the vehicle is the grille posted above.
The ad juxtaposes the impressive performance metrics of GMC's first all-electric truck with the remarkable quietness inherent in the operation of an electric vehicle. In other words, no more ticking off the neighbors because the 1,000-hp electric Hummer with 11,500 lb.-ft. torque will quietly hum and buzz along whereas a 1,000-hp supercharged truck roaring to life at 7 a.m. won't exactly make friends in most neighborhoods. Plus, most trucks and cars will have a hard time keeping up with the Hummer EV which GMC says will hit zero to 60mph in three seconds.
So why are we thinking that the resurrected Hummer will be a pickup and not an SUV? Well, in Michigan this week GM president Mark Reuss said, "Our electric pickup will be the first of multiple electric truck variants we will build at Detroit-Hamtramck over the next few years."
Combine that with what GMC reported today, that the Hummer EV will be its "first all-electric truck." But wait a minute! Trucks are often lumped together with SUVs and this is GMC's first electric truck, not Chevy's! That doesn't mean anything! Well, later in the press release there's this statement which clearly separates GMC trucks from SUVs.
"GMC builds premium and capable trucks and SUVs and the GMC Hummer EV takes this to new heights," said Duncan Aldred, vice president of Global Buick and GMC. "We are excited to debut our revolutionary zero-emissions truck during the biggest night in TV advertising."
So, to recap…though GMC does not refer to the Hummer as a pickup, it does call it a truck throughout the press release—not an SUV. Was it intentional slight of hand? Looks like we'll have to wait until the full reveal on May 20. Still, I'll be tuning in for a closer watch during the Super Bowl.
The GMC Hummer EV will be built at GM's Detroit-Hamtramck assembly plant where Reuss said their first production EV, a pickup, will rollout in late 2021. GMC reports that Hummer EV will be rolling off the assembly line there in the fall of 2021. Was Reuss referring to Hummer EV? Looks like it's a safe bet. In fact, GMC just confirmed with Hard Working Trucks that Hummer EV will be a pickup. Excuse me while I pat myself on the back 😉