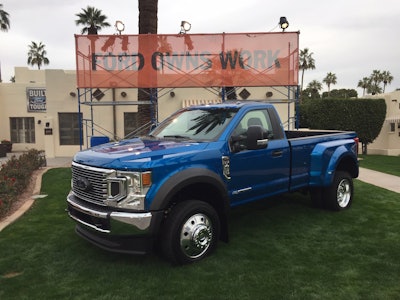 It's somewhat of a throwback to what pickups used to look like and it keeps looking better every time I see it.
Ford recently rolled out the most powerful, factory-produced pickup in the nation at its Super Duty event near Phoenix, Ariz.
The velocity blue 2020 F-450 regular cab dually equipped with a new 3rd generation 6.7-liter Powerstroke diesel muscles up to best-in-class 37,000 pounds gooseneck towing, best-in-class 32,500 pounds fifth wheel and best-in-class conventional towing at 24,200 pounds.
A seriously sized rear diff capped by something akin of a Roman shield houses a max tow 4.3 axle spun by a new 10-speed TorqShift heavy duty transmission which quickly—and I mean quickly—draws on the 6.7's best-in-class torque of 1,050 lb.-ft. and 475 horsepower.
This powertrain combo has resulted in the fastest, factory-produced diesel pickup I've ever driven. When making a move to pass a frustratingly slow vehicle, I floored a 2020 F-250 equipped with the same engine and tranny and got instant and amazingly smooth acceleration/gratification. No lag. An absolute confident blast to the head of the class. A thrill to drive.
The truck's increased power and improved fuel economy comes courtesy of some important changes including fuel delivery and new pistons. David Ives, Ford's diesel technical leader, gets into the nuts and bolts below.