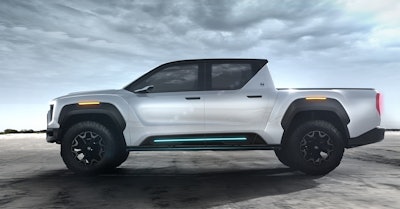 Have you driven a Nikola lately?
No you probably haven't but nonetheless company founder and executive chairman Trevor Milton is confident that once the company's upcoming pickup hits the market it will blow the doors off the biggest names in the business, including the Big Blue Oval.
"My goal is to take the throne from the F-150. That is my goal," Milton said during an interview today with Yahoo Financial. "That Badger is going to rock the world…it's going to beat every pickup truck that I know of in the market and we're going to do it in front of the audience."
Milton's comments came after the company's stock value soared 103% this week following its highly publicized IPO last Thursday. No small feat for a company that has yet to sell any trucks. That's right. Zero revenue for the Arizona-based company and yet its $27 billion valuation has surpassed that of Ford and Ram's parent company, FCA.
Pre-orders for either the all-electric or fuel-cell Badger will start on June 29. Those who reserve the truck, which will be built with a yet-to-be-revealed auto manufacturer, will also receive a reservation for this year's Nikola World where the Badger will be revealed.
"You'll get to see a real operating truck, not a fake show truck," Milton Tweeted on Monday. "Expect stamped metal panels, functioning interior w/ hvac, 4×4, etc."
In something akin of a gladiator showdown, the truck will also be going up against other manufacturers' pickups at Nikola World where Milton expects up to 30,000 guests.
In terms of zero emission capabilities, Nikola appears to have an edge over its competitors. Unlike other electric pickups entering the market, including Ford's electric F-150, the all-electric Badger will offer customers the option of later installing the company's fuel-cell following their purchase.
Milton also tweeted this week that Badger's sticker price will start at $60,000 and top out at $90,000.
Shortly after Reuters broke the story today that Tesla would be starting production of its long-awaited and delayed electric Semi, Milton both praised the move and took a swipe.
"I love the competition!" Milton tweeted Wednesday morning. "Tesla's call to mass produce a semi is a good thing to Nikola's business model no matter what. I hear the their semi truck weighs 27,000 – 30,000 lbs for long range mile version. Our fuel cell should be 10,000 lbs less."
When a Twitter user challenged Milton about loving the competition, he responded: "Oh geez. We have the first ever built 300+ mile semi truck ZEV going into production and a factory already spitting off prototypes in Ulm, Germany. Yes, we are first, not second. We also have multiple prototypes running around, you can see them on tons of videos all over youtube."
Below is a video of the Nikola Two semi that was posted last year by HWT's partner publication, Commercial Carrier Journal.