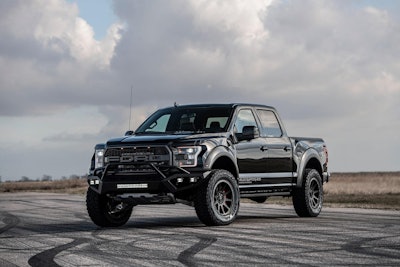 Hennessey Performance is taking some heat for a recent video they posted of their new 2019 VelociRaptor 600.
Just a few days after posting the video the top comment roasts the pickup's twin-turbo 3.5-liter high output V6—not for its 600 horsepower, but for its sound.
"Still sounds like someone farting really loud in an empty metal trash can," writes Hunter_Baxter. "Definitely doesn't sound like a 600-hp beast."
Complaints like that directed at Ford's high-output V6 are nothing new and it's what helped fuel company founder John Hennessey to drop a 758-hp super charged V8 into the 2019 F-150 Raptor. Our video from SEMA this past November (posted below) reveals loud, deep growls from that V8 which may win over critics of the V6.
"So many people kept asking, 'Can you put a V8 into the new Raptor?' So we did," Hennessey said.
The biggest challenge in making the switch to Ford's V8 5.0-liter Coyote, which gets a lot of help from Hennessey's 2.9-liter super charger, came from getting the truck to accept a V8 transplant over its stock V6.
"The real work is in the software and the wiring harness to make the new Raptor believe that the V8 that's in there is okay to be in there," Hennessey explained.
Listen to both the V6 and V8 equipped VelociRaptors below and decide for yourself.