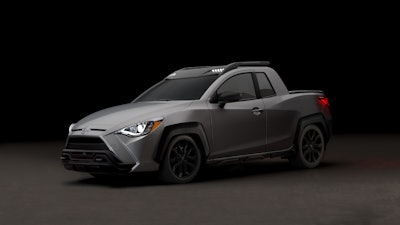 Looking for a truck version of the Toyota Yaris?
With a small 52.3-inch bed and a payload of just under 300 pounds, probably not. And that's okay.
Toyota had some fun posting a story on April Fools' Day today titled "All-New 2020 Toyota Yaris Adventure: Answering the Question Nobody Asked."
The press release posted on their media site had plenty of memorable lines about the only pickup in the subcompact truck segment which is set to debut in its native environment of the 2019 New York International Auto Show.
"Toyota sells every mid- and full-size truck that hits the lot, but Yaris Adventure will fill the void of a subcompact pickup segment that has never truly existed because … well, no one realized they needed it until now," writes an undoubtedly grateful PR rep who probably never envisioned embellishing their talent for satire at Toyota. (Or, maybe every writer is required to lampoon a Prius or two prior to being hired? Or maybe this writer simply went rogue, locked the page and is half-way to Hawaii?)
If you run out of room filling that tiny bed with all those bags of dog food and kitty litter from your favorite warehouse store, just slip them all behind the front seats.
"The extra cab with rear seating was ditched because it was determined that no one really wants to sit back there anyway," the Yaris lampooner writes.
With enough power that would make any respectable Walmart shopping cart shake its casters off, the Yaris Adventure roars into action with a 1.5-liter inline four-cylinder engine that delivers a segment-best 103 horsepower and 112 lb-ft of torque (of course, it's the only subcompact truck in the segment).
Yaris continues to dominate its strange little segment with 7.6 inches of ground clearance and 42.5 inches legroom.
"Toyota is very excited to debut this product that nobody saw coming," said a senior executive at Toyota who preferred to remain anonymous. "We're constantly listening to our customers and reacting to the market. We have to blame the market on this one, as we haven't had one customer ask for a truck like this."
Other information you must know about the 2020 Yaris Adventure courtesy of Toyota's satirist (hmmm…will the writer be dispatching other comedic communiques soon? Pulling contest between a Yaris and a Prius for instance?)
Won't Blend In
A bold, passenger-first design gives the 2020 Yaris Adventure a distinct look. The front end projects a gutsy attitude with a hexagon lower front grille and sharp-eyed headlamps. The automatic LED headlamps incorporate daytime running lights, which pair perfectly with the aggressive front bumper complete with tow hooks, perfect for getting pulled out of a situation the vehicle shouldn't have been in to begin with.
At 167.2 inches long, the Yaris Adventure Grade can fit into parking spaces that most other truck owners have to pass up. That's a real bonus for urban dwellers, even though Yaris Adventure was made to leave the city (via highway).
Straying from the Pavement
Yaris Adventure off-roading excursions will begin and end with dirt roads. All Yaris Adventures are equipped with coil-spring double wishbone front suspension and leaf spring rear suspensions. This suspension, paired with a 7.6-inch ground clearance, is perfect for taking a curb in a mall parking lot or clearing the shrubs when parking in a friend's front yard.
The Dynamic Torque Vectoring AWD that was recently introduced on the 2019 RAV4 will not come standard on Yaris Adventure. It will, however, offer a newly developed AWD system capable of allowing Yaris owners to carefully bring their vehicles out of their underground garage when it snows in the city.
Surrounded by Sound
The standard 7-inch Display Audio system delivers clear, powerful sound played through two speakers, one in each door. Maximizing connectivity and control, the system is equipped with one USB media port and Bluetooth wireless technology for hands-free phone operation and music streaming.
Here's another surprise from the 2020 Yaris Adventure: no navigation (because anyone smart enough to drive the Yaris Adventure knows exactly where they're going).
Warranty
Due to the extensive testing done on Yaris Adventure, a warranty won't be offered for this truck because it would be unthinkable that something goes wrong. However, roadside assistance will be offered, as it's likely the truck will get stuck if it veers too far off road.
The Yaris Adventure combines the comfort and fuel economy of a sedan with ideal cargo space, but not so much that friends will ask you to help them move.
Fun fact: The Yaris Adventure is the only vehicle with a bed that doesn't come with a full-size spare tire.