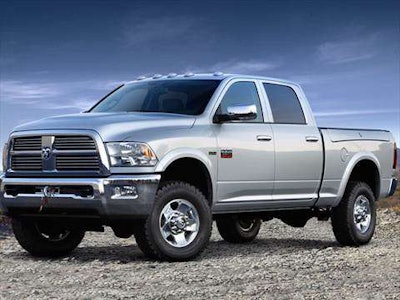 Both FCA and Cummins are planning a vigorous defense after a federal judge ruled that a class action lawsuit can proceed against both companies alleging diesel emissions violations in heavy duty Dodge Ram trucks.
U.S. District Court Judge Terrence G. Berg of the Eastern District of Michigan ruled that lawfirm Hagens Berman of Volkswagen Dieselgate infamy can proceed with its suit claiming that FCA and Cummins were complicit in installing diesel emissions defeat devices on 2007-2012 Dodge Ram 2500 and 3500 trucks equipped with a 6.7-liter Cummins diesel.
"FCA US will continue to pursue a vigorous defense in this matter," FCA said in a statement. "We cannot comment further at this time as the case is still in litigation."
Cummins expressed disappointment in Berg's ruling. Berg, who was appointed to the Eastern District court by President Obama in 2012, had rejected earlier claims made last year by Hagens Berman alleging emissions cheating by FCA and Cummins on the same trucks. Following Berg's ruling of insufficient evidence, Hagens Berman amended its claims and, according to Berg, has now provided enough credible information for the lawsuit to proceed.
"Cummins is disappointed with the Court's ruling and is continuing to review the decision," reads a Cummins statement given to Hard Working Trucks. "Cummins intends to vigorously defend the claims."
Hagens Berman reports that it conducted its own emissions tests on three Dodge Ram 2500 trucks equipped with the 6.7-liter Cummins diesel engine: a 2007 with 41,000 miles, a 2009 with 48,000 miles, and a 2012 with 73,000 miles in both stop-and-go conditions and highway driving, through both cold and hot starts and flat road driving. One of the trucks was tested on a chassis dynamometer, to simulate EPA testing conditions. In addition to the PEMS testing and dynamometer, three trucks were fitted with data logging software that tracked all vehicle parameters broadcast by the vehicle's computer.
"The results of this testing showed that, in stop-and-go driving, emissions on average were 4.4 times the standard for the 2007 test vehicle, 5.3 times for the 2009 test vehicle and 3.8 times for the 2012," Hagens Berman reports in a press release. "Maximum active regenerations reached as high as 14.9 times the standard. The 2007 is out of compliance with emissions standards 90 percent of the time, and the 2009 and 2012 80 percent of the time in stop-and-go conditions."
Both FCA and Cummins have long denied the accusations of diesel emissions cheating going back to when Hagens Berman first filed suit against both companies in 2016.
"This lawsuit has no merit and contains false and exaggerated claims, and we will combat these allegations vigorously," Cummins stated last year.