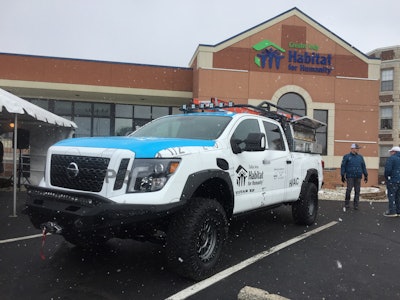 The partnership between Nissan and Habitat for Humanity goes back to Hurricane Katrina in 2005 when the automaker donated a fleet of Titan trucks to the non-profit to help with rebuilding efforts in storm-ravaged New Orleans.
Fourteen years later and the relationship continues with Nissan's latest gift to Habitat, a 2019 Titan XD customized for construction work. The Ultimate Work Titan, part of Nissan's Calling all Titans campaign, was presented on snowy afternoon today in front of Habitat for Housing of Greater Indianapolis.
"We launched that purpose-driven campaign for one reason and one reason alone—it was to honor and celebrate our Titan owners. Titan owners are driven to improve the world around them," said Fred DePerez, vice president, North America LCV Business Unit, Nissan North America.
Nissan has remained dedicated in supporting community-minded organizations like Habitat for Humanity which has received 150 trucks and $16.9 million in donations from the automaker since 2005.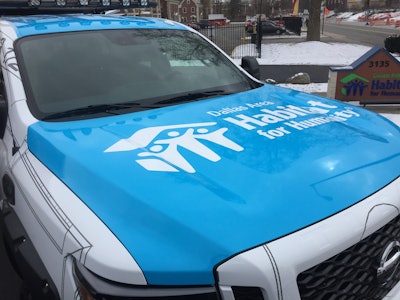 "We're just so thankful for the Nissan Partnership," said Allison Greene, director of marketing and workplace giving for Habitat for Humanity International. "You allow us to do work that we otherwise couldn't do."
The Ultimate Work Titan, which began life as a stock Titan XD Crew Cab Midnight Edition, was a collaborative effort between Nissan, Habitat for Humanity, construction professionals and truck builder Fluid Peak Productions.
Powered by a 5.0-liter Cummins diesel, the truck features a three-inch Icon lift kit with adjustable-height coil-over shock absorbers, custom rod end bearings and patent-pending Delta Joints.
Icon Alloys Rebound wheels are wrapped by Nitto Ridge Grappler tires. Addictive Desert Designs bumpers provide an additional layer of protection, while a Warn Industries Zeon Platinum 12-S Winch stands at the ready. In the nighttime hours, Baja Designs lighting leads the way with custom worksite lighting.
A 13-inch laptop held in place by an adjustable mount sits just to the right of the driver's seat while a printer, custom desk, file storage and 110-volt power outlets stand at the ready in the back.
Anchored to Titan's innovative Utili-track Bed Channel System, a Bedslide 2000 Heavy Duty sets the stage for easy access to all the bed has to offer. Connected to the bed slide is a Decked lockable storage system, where a site supervisor can confidently store tools. Commercial class heavy duty lockable tool boxes are included along the sides of the bed for additional storage.
Inside the lockable storage are some of the highest quality tools in the industry. In addition to a complete toolkit, other products stored within the bed include a table saw, chop saw, chainsaw, air compressor and drill kit. A Zamp 200 Watt power inverter, as well as Rigid Extension Cords, was included to provide power sources in addition to the 110-volt power outlet included both in the bed and the cabin of the Titan XD.
Of course, no home can be built without a ladder. Atop the Ultimate Work Titan sits a TrailFX aluminum ladder rack featuring multiple commercial grade ladders, easily accessible with the help of the Titan XD bed step and dampened assist tailgate.
Meanwhile, Titan XD's 14 cup holders will ensure everyone has a spot during their hard- earned water break. And at the end of another long day at the job site, builders will rest easy on the standard Titan XD Zero Gravity seats, enjoying music on the new Fender Premium Audio System, reflecting on a job well done.
The Ultimate Work Titan will be on display during the Work Truck Show at the Indiana Convention Center through March 8. For more information on the Calling All TITANs campaign, the 2019 Titan, Titan XD and the complete Nissan vehicle lineup, please visit NissanNews.com.