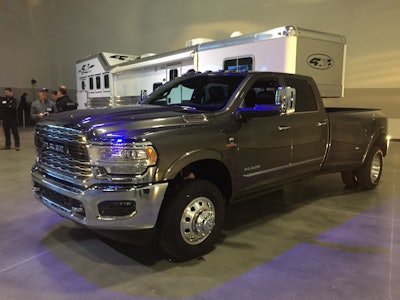 It's no secret that you often hear a diesel in the neighborhood before actually seeing it coming around the bend.
Diesels have long been noted for their loud pinging and knocking, and what sounds like strength and endurance to some can certainly be annoying to others, especially in the early morning in a sleepy neighborhood where the guy fetching the paper in his slippers might be your next customer—might.
To help tone down the cacophony of clatter, Ram and Cummins worked together to build the new 6.7-liter Cummins diesel for 2019 Ram heavy-duty trucks. The result is a much quieter and stronger engine.
"We've got it running and obviously what stands out is that it's a lot quieter," Rod Romain, chief engineer of Ram heavy duty explains in the video below.
Romain credits the quieter engine to its compacted graphite iron block, hydraulic lash adjusters and scissor gears that were added to the front gear drive to help reduce gear noise.
"As you can tell, it's a lot quieter," Romain says. "It still has that diesel sound, but it's a lot quieter."
Listen for yourself starting at 1:36 in the video below. Prior to that, Romain talks about the truck's larger radiator, active grille shutters and air intake plenum.