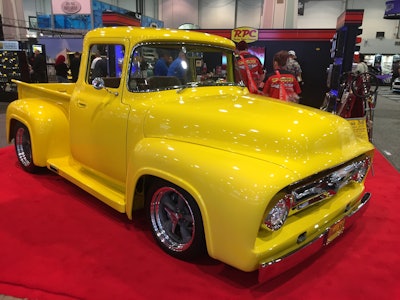 Yellow looks good on this 1956 F-100—so good that we couldn't pass it up at SEMA this year.
Built by Trigen Street Rods in La Habra, this proud pickup gets its muscle from Ford, including a 420-hp 460 V8, an E40D tranny and a 9-inch 3.73 rear end.
The boxed and powder-coated chassis features front suspension by TCI (Total Cost Involved) and 4-link rear suspension by RPC (Racing Power Company). A.B.S. Big Brakes bring some serious stopping power to 18×8-inch wheels in the front and 18x10s in the rear.
Vintage Air keeps things cool in the interior while the music comes through sweet and clear courtesy of Custom Auto Sound.
Design & Fabrication: JR. at Trigen
Paint & Body: Auto Perfections, La Habra Luna Yellow House of Kolor
Interior: Bill's Custom Auto Upholstery, Brea, Calif.
Chrome & Polish: La Habra Plating
Glass: Kotto Auto Glass
Bedwood: Richard Wilk, Rowland Heights, Calif.