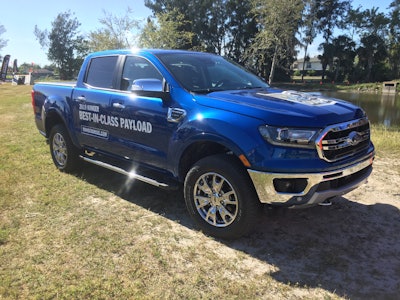 We spotted some huge pickup inventories while driving past several dealers on the way into Cape Coral, Fla. this past weekend.
With roughly 300 miles of canals here leading to bayous, bays and the Gulf, you can bet there are plenty of boating enthusiasts looking for trucks to haul their boats (and other toys).
Naturally Ford thought it was a good idea to bring their new 2019 Ranger to the Cape Coral Outdoor Expo and Boat Show from Dec. 7-9 to let folks get behind the wheel of their soon to be released midsize truck and take it for a little spin.
The test drives are part of the Ford Ranger Drive Tour which is open to the public and the press. The drives are only about five minutes long and reporters were asked by Ford to withhold their impressions until later this month.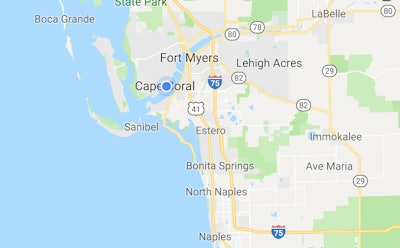 Still, it was an opportunity to get some seat time, so we made the 500-mile drive from Panama City, Fla. down south to the city of canals to get a closer look and get more familiar with the F-150's baby brother. Save for a short, dirt path around a pond, we were confined to nearby streets where we goosed it a few times in sport mode to get a better feel for the truck's 278-hp 2.3-liter EcoBoost engine.
What's unusual about this test drive tour is that it preempted media test drive events for the highly anticipated pickup. Such events offer reporters much more seat time and a variety of driving conditions such as towing, hauling, highway driving and off-roading. Some OEMs also include obstacle courses and information sessions plus Q&A times with engineers and top brass. Not to worry…Ford does have media events planned for Ranger.
In the meantime, we're grateful to Ford for giving us the chance to drive the new truck and look forward to getting more familiar with it in the days ahead. We'll publish our impressions from the Cape Coral ride later this month. We've got some pictures below which will hopefully help you draw some of your own impressions.
Ranger is expected to roll-out to dealers in January. Pre-orders, which started in August, are still available online at Ford's website. Prices start at $23,500 for the XL SuperCab which comes with a six-foot bed.
Remaining Ranger drive tour times and places (register at https://www.rangerdrive.com/.)
Dec. 15, Somerton Tamale Festival in Somerton, Ariz.
Dec. 15-16, Traders Village, Grand Prairie, Texas
Dec. 22-23, Traders Village, Grand Prairie, Texas
Dec. 22-23, Desert Sky Mall, Phoenix, Arizona.
Dec. 27-30, San Diego Auto Show, San Diego, Calif.