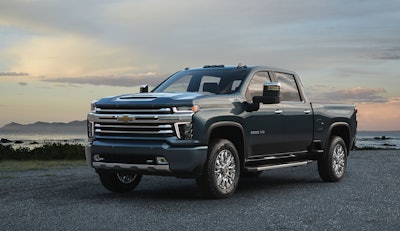 Chevy continues to expand its truck franchise with five distinct trim levels for the all-new Silverado HD: Work Truck, Custom, LT, LTZ and High Country.
This line-up follows the expanded range of customer choices on the all-new Silverado 1500, which has eight distinct trim levels. As with the 2019 Silverado 1500, each 2020 Silverado HD model offers a different level of design, features and technology.
"Truck customers are very clear: They want the perfect truck for them and not a 'one size fits most' truck compromised for the masses," said Mike Simcoe, GM's vice president of global design. "That insight shaped our strategy for the next-generation Silverado franchise, providing customers more differentiation between the Silverado 1500 and the Silverado HD as well as more personalization and differentiation between individual trim levels."
For example, each of the Silverado HD models features distinct exterior design details including grilles featuring either the Chevrolet stamped bar or the iconic Chevrolet bowtie and a mix of black, body color, chrome or the two-tone metallic trim exclusive to High Country models.
"We took into account every detail of what customers expect, and how they will use their truck," said Simcoe. "The results are unique versions of the Silverado HD equally at home working on a construction site or pulling a camping trailer."
The 2020 Silverado HD goes on sale in mid-2019. Stay tuned for more details about the all-new 2020 Silverado HD, including images of Work Truck, Custom and LTZ, closer to launch.