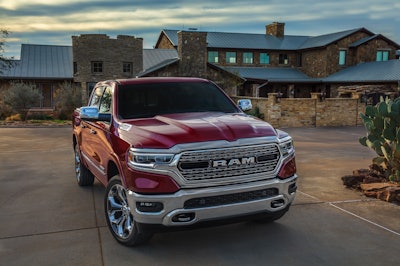 Green Car Journal recently selected the all-new Ram 1500 as the 2019 Green Truck of the Year and the redesigned Ford Transit Connect as the 2019 Commercial Green Car of the Year. The awards were announced at the San Antonio Auto & Truck Show in San Antonio.
"Recognizing trucks and light commercial vehicles for their environmental achievement is important considering the sheer number of these vehicles operating on our city streets and highways," said Ron Cogan, editor and publisher of Green Car Journal and GreenCarJournal.com. "This is especially true since pickups represent the best-selling vehicles in the country. Higher fuel efficiency, lower tailpipe emissions, and reduced carbon emissions here can make a huge impact."
The highly-anticipated 2019 Ram pickup is lighter than the previous generation with greater payload and towing capability. Fifth-generation Ram 1500 pickups are available with mild hybrid powerplants: the 3.6-liter eTorque V6 and 5.7-liter eTorque HEMI V8.
Available in short- and long-wheelbase versions, the redesigned 2019 Ford Transit Connect offers up to 146 cubic feet of cargo capacity, a 1,570 pound payload rating, and the convenience of twin sliding side doors. Among its available engines is a 2.0-liter four-cylinder delivering 29 highway mpg. A highly-efficient 1.5-liter EcoBlue turbodiesel available in early 2019 is expected to net at least 30 highway mpg. Both the Transit Connect and Ram 1500 feature the latest connected and driver assist technologies.
In addition to the Ram 1500, finalists for 2019 Green Truck of the Year included the Chevrolet Colorado, Chevrolet Silverado, Ford F-150 and Ford Ranger. Vying for 2019 Commercial Green Car of the Year along with the Ford Transit Connect were the Ford Special Service Plug-In Hybrid Sedan, Mercedes-Benz Metris, Ram 1500 and Ram ProMaster City.
Each of these 2019 Green Car Awards finalists is recognized with Green Car Journal's 2019 Product of Excellence distinction.
"We are proud to host the Green Car Awards each year and highlight the tremendous strides being made by today's pickups and light commercial vehicles," said Pam Crail, president of San Antonio Auto Dealers. "The new models on display at the San Antonio Auto & Truck Show reflect the increasing sophistication and driver-centered features so desired by today's new car and truck buyers, as well as the all-important move toward greater efficiency and environmental performance."