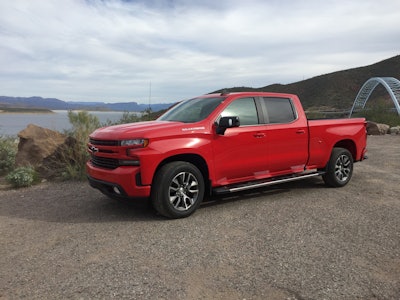 The proof is in the pedal.
Chevy's 2019 Silverado 1500 equipped with its new turbocharged 2.7-liter gasser provides an impressive lesson in engineering.
Turning onto a busy Arizona street I gave the inline-four some gas—okay, I floored it—and it didn't hesitate. It accelerated fast and sounded like it meant business. No wimpy gas sipper here. I had immediate respect for the 310-hp dynamo which made quick work of its 348 lb.-ft. of torque, just as it was designed to do.
"The real cool thing is that it makes that torque at 1,500 rpm all the way through 4,000 rpm," Scott Damman, GM's lead development engineer for the 2019 Chevy Silverado, explains in an interview posted below.
Thanks to a dual-volute turbo—an industry first for a gasser—it takes less than two seconds to put that torque to work through an 8-speed automatic and 3.42 rear end.
"People talk about diesels and they really love to drive diesels," said Kevin Luchansky, assistant chief engineer for the 2.7-liter 2019 Silverado. "Our intent was to give diesel-like torque in a gas engine and also make the power that a gas engine does. Diesels tend to fall off, this keeps pulling all the way through. Zero to 60 in 6.8 seconds. Really quick, really nimble."
Yes it is. During a roughly two-hour long drive to the state's largest reservoir, Roosevelt Lake (Teddy himself dedicated the dam there in 1911), the two-wheel-drive RST crew cab easily took on tough grades with power to spare and without turning into a gas guzzler (EPA-rated 20mpg city, 23 highway).
Though the 2.7 offers 22 percent more torque than Chevy's 4.3-liter that it's replacing, it gets 13 percent better MPG in the city. It also weighs 380 pounds less than the current 4.3-equipped Silverado. Compared with competitors' full-size trucks, the Silverado 2.7-liter turbo is expected to deliver comparable payload capability with greater torque than the 3.3-liter V6 in the Ford F-150 XLT and the 3.6-liter V6 in the Ram 1500 Big Horn.
"The new 2.7-liter turbo is a technological marvel, with our most advanced valvetrain," said Tom Sutter, chief engineer for the 2.7-liter turbo. "With a broad, flat torque curve and quick throttle response, it punches above its weight, delivering surprising performance and efficiency."
According to Damman, the 2.7's Borg-Warner dual volute turbo draws in exhaust from both sides, eliminates pulsing normally experienced with a turbo and actually spools up much faster allowing quicker access to torque.
And because they wanted the gasser to behave more like diesel, it was designed to handle greater pressure.
"We've chosen diesel-like components because the engine produces diesel-like torque and diesel-like cylinder pressures," Luchansky said. "We needed to employ some of the same technologies a diesel requires to make it durable."
The top of the piston is fully machined to remove casting imperfections which can pose a risk for cracks. A stronger cast-iron ring insert is used for the top ring versus aluminum. The connecting rod is one of the strongest GM's ever designed for a gas engine, according to Luchansky. That rod, in turn, is attached to a forged steel crankshaft by way of a tri-metal bearing which is normally used in light-duty diesel applications.
"The tri-metal bearing is something that's very good for embedment. It's very good for wear protection and stiction," Luchansky explained. "It's a very, very high-end bearing. There was no expense spared on the power cell which is the piston, the rod and the rod bearing."
One of the other accomplishments that GM is proud of is their sliding camshaft which delivers Active Fuel Management. An overhead cam turns off two of the center cylinders so literally it runs on two cylinders—yes, from four down to two.
"It's not that scary," Luchansky said. "These cylinders are really big. 675cc per cylinder. Pretty similar to the 6.2-liter running DFM (Dynamic Fuel Management)."
Whereas cam shopping often means choosing between fuel economy and smile-inducing power, GM ended up with the best of both worlds thanks to an in-house produced, billet steel cam that offers high, low and zero lift (in the case of Active Fuel Management which runs the engine on two cylinders). Depending on driving demands, the cam switches back and forth seamlessly using electric actuation.
Truthfully, I couldn't tell when the truck might have been running on two or four cylinders. Keep in mind that the vast majority of driving I did was on the highway.
During steep descents, the truck easily slowed down thanks to a new improved brake system featuring electro-hydraulic power assist, larger-diameter brake rotors and larger brake pads.
Creature comforts in the interior, including jet black leather seats, were certainly impressive enough, but truth be told I was more interested in seeing what the new 2.7 could do. While it showed plenty of muscle taking on steep grades, I would have liked to have done some towing and hauling. Maybe next time. As such, we were told the 2.7-equipped Silverado will tow up to 7,200 pounds and haul 2,880.
The 2019 Silverado two-wheel-drive RST crew cab I drove stickers at $50,625 and included plenty of extras, including 20-inch painted aluminum wheels, Bose premium sound system, dual zone climate control, trailering package and front and rear park assist.