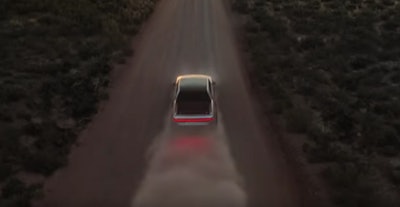 Rivian released the names of its all-electric pickup and SUV along with a teaser video showing the pickup flying down a dirt road.
Keep in mind that we said 'teaser,' so the overhead footage, while not shot from Mars, does not exactly reveal much of the R1T. Still, it's more than we've seen before.
The big reveal for the truck and Rivian's R1S SUV will come later this month at the L.A. Auto Show.
The 57-second video called "The Electric Adventure Begins" depicts a person trapped inside the noise and pressure of modern-day urban life. (Paddy Chayefsky being channeled here as Network meets Space Odyssey but with a much, much happier ending that comes from stomping on the accelerator and leaving everything and everyone in the dust.)
According to Rivian its "all-new electric drive models promise impressive on- and off-road performance figures and class-leading specifications including range, power, torque and off-road articulation. These vehicles are set to demonstrate that electric vehicle technology is now able to deliver durable, long-range on- and off-road capability to consumers."
While Rivian didn't say much today about the R1T, it did report that the R1S SUV will feature three-row seating for up to seven.
Engadget reported earlier this year that the 800-hp version of the R1T will soar from 0 to 60mph in 2.8 seconds. The truck is designed to drive through 3.6 feet of water and take on tough terrain pitched up to a 45-degree angle.
Range for the 800-hp version is rated at 450 miles while a base model 80kWh variant will deliver roughly 200 miles. Prices are expected to range from $50,000 to $90,000. The R1T and the R1S are expected to launch in 2020.
Rivian bills itself as a full-scale automaker and leading mobility technology company founded in 2009 by MIT engineering PHD graduate RJ Scaringe.
The name Rivian is derived from 'Indian River', the estuary that ran through Scaringe's childhood backyard in Florida. The company's logo is an interpretation of a compass, suggesting the North, South, East, and West of adventure.
Rivian currently employs a staff of 500 across its five locations, with vehicle development and design in Plymouth, Mich.; battery, powertrain, controls and integration in Irvine, Calif.; self-driving and digital experience in San Jose, Calif.; advanced engineering in the United Kingdom and manufacturing at a 2.6 million sq. ft. production facility south of Chicago in Normal, Ill. Rivian expects to double employee numbers as it ramps up to full production.