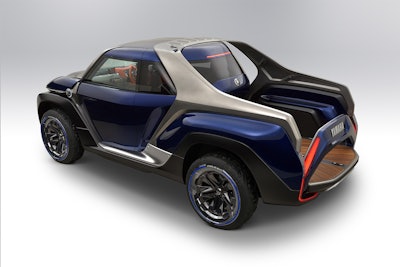 For years, Yamaha has offered a diverse range of products, so why not add a truck to the lineup?
Yamaha recently unveiled its Cross Hub pickup concept at the Tokyo Motor Show. The tandem rider puts the driver in the middle up front with passenger seats on either side, while one passenger sits directly behind in the rear. Yes it's small, and of course, there's a reason for that.
"The point we focused on was making everything 'just the right size.' This meant finding a body size suitable for use either on- or off-road while being maneuverable in the city, and still having sufficient utility to transport other Yamaha recreational products," Yamaha states on its website.
In the picture below, a full-size dirt bike is shown in the bed diagonally, while a smaller bike (around 50cc) fits snugly on the side.
"In order to create a cabin seating four adults as well as a rear cargo bed that could carry up to two motorcycles, we adopted a unique process for the design and development that focused on extensive experimentation and testing of the overall package before moving to the vehicle's styling," Yamaha states.
"That was what led to the innovative diamond-shaped cabin layout. It positions the driver's seat forward in the middle with the passenger seats surrounding it from behind, thus enabling a compact vehicle size still providing the desired cabin space and rear cargo bed capacity."
The Cross Hub concept was inspired by various recreational lifestyles, with Yamaha products in mind. For instance, the idea for the truck's wood paneled bed came from their boat decks.
It's tempting to think that the Cross Hub would be a blast off-road. I grew up riding Yamaha dirt bikes which never disappointed. However, at this point, the company's being quiet about specs and features, so who knows if it can really tear up much dirt.