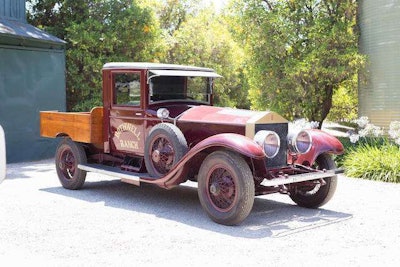 A Rolls Royce pickup?
Every now and then an example emerges and this latest—a converted 1926 Silver Ghost—is going up for auction next month in Los Angeles.
Bonhams states in its lot description that the truck began life as a Tilbury Sedan. It was built at the automaker's Springfield, Mass. plant which was shut-down during the Great Depression.
A woman in Santa Monica acquired the Ghost in 1926. Orange grove owner Lindley Bothwell was next in line. He converted it to a pickup in the 1940s. The engine offers between 40 to 50 horsepower. Mileage is not listed.
"An absence of use in the last few years, has clearly seen it loose the shine from some of its cosmetics and there is evidence of some small creatures taking sanction in the cab compartment!" the description reads. "The conversion of majestic 'Roller' to humble commercial vehicle can sometimes be something that looks odd, but this car was so well done and has been this way for the majority of its life that it would no doubt prove fun to keep it as it is, and to continue to provide service on another similar ranch or estate."
As part of the Bothwell Collection going up for auction on Nov. 11, the truck is expected to bring in somewhere between $50,000 to $70,000.
Rolls Royce's plant in Springfield, Mass. served as the company's only manufacturing site ever outside of the United Kingdom. Beginning in 1920, nearly 3000 Silver Ghosts and Phantoms rolled out from the factory floor until the Great Depression brought about its closure, according to rollsroycefoundation.org.