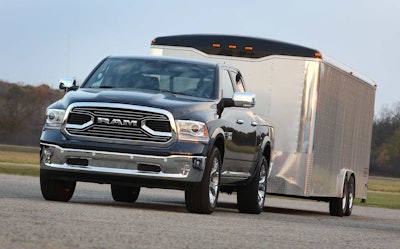 It's official, though it's probably not much of a surprise.
The 2017 Ram 1500 EcoDiesel has the best fuel economy of any ½-ton pickup in its class. There was a slight decline in mpg performance from the prior model year following new EPA calculation methods, but nonetheless, the truck still reigns as the best fuel sipper among 1/2-ton trucks.
The numbers—20 mpg city, 27 highway and 23 combined for the two-wheel-drive variant—were posted today on fueleconomy.gov over a month after Ram parent company FCA announced that EPA and the California Air Resources Board (CARB) had approved the production and sale of 2017 Ram trucks and Jeep Grand Cherokee SUVs equipped with the 3.0-liter EcoDiesel roughly seven months after both agencies had accused FCA of emissions cheating. The automaker strongly denied any wrongdoing.
Fuel mileage ratings for the 2017 Ram 1500 EcoDiesel 4×4 are 19 mpg city, 27 highway and 22 combined.
Fuel economy stats were not available for the EcoDiesel-equipped 2017 Jeep Grand Cherokee.
Hard Working Trucks contacted Ram earlier today and informed them that fuel economy ratings were still not posted on fueleconomy.gov for any EcoDiesel-equipped vehicle. Sometime later, mpg figures did appear for the 2017 Ram 1500 4×4 and 4×2.
Ram's 1500 EcoDiesel had been tops in fuel economy in its class for the past few years, but after allegations of emissions cheating were announced by EPA and CARB in January, all fuel economy numbers for Ram and Jeep vehicles equipped with EcoDiesel engines were removed from fueleconomy.gov. Sales of 2017 FCA vehicles equipped with the award-winning engine were also brought to a halt.
Hard Working Trucks reached out to fueleconomy.gov to learn why it took over a month to post fuel economy numbers for the truck. As of publication, we haven't heard back from the agency. Also, we're waiting to hear back why mpg numbers for other model year EcoDiesel vehicles are still not posted.
According to fueleconomy.gov, the 2.7-liter EcoBoost-equipped 2017 Ford F-150 comes in second place for fuel economy in the ½-ton class with 19 mpg city, 24 highway and 21 combined. The 2018 F-150 version of this truck increased to 20 mpg city, 26 highway and 22 combined, but it's still below the 2017 Ram 1500 EcoDiesel. Fuel economy ratings for Ford's 2018 F-150 diesel are not yet available.
Fuel sipping performance for the 2017 Ram 1500 EcoDiesel did drop 1 mpg highway from the 2016 model year. HWT reached out to Ram for an explanation.
"All EcoDiesel numbers are the same except for 4×2 highway," FCA's Media Relations Manager Eric Mayne explained. "That's because of a new EPA calculation method implemented for model year 2017. This was expected and is within EPA-estimated impact."
Cars.com reported last year that EPA's new calculation method could affect fuel economy ratings on roughly 30 percent of 2017 model year vehicles.
A screen shot below from fueleconomy.gov shows the EcoDiesel back at the top of its class for model year 2017 fuel economy.