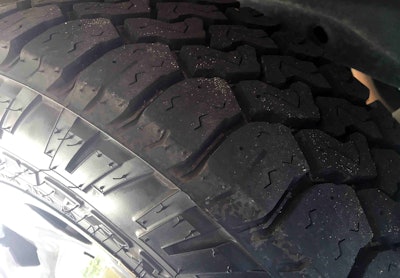 Last Fall, Toyo Tire U.S.A. sent me a set of their new-at-the-time Open County C/T tires (245/70R17), which I promptly mounted to my personal F-150 and have been piling on the mileage ever since.
In the last nine months – and nearly 17,000 miles – these tires have seen everything from the open highway (from southwest Alabama to Nashville, Tenn., twice) to some Alabama hunting trails with a locally-legendary ability to strand even the most hardcore swamp-equipped machines.
The tires' heavy duty construction includes an extra tough three-ply high turn-up arrangement, offering exceptional sidewall bruise resistance and aiding in ride stability and durability and dual-angle shoulder blocks improve traction in snow, mud and rutted roads. The traction of the tire has been consistently excellent when conditions have been anything but, thanks in part to a deeper siping and open-ended notches that provide superior wet-road traction.
The Open Country C/T tire shares just enough similarities with the Open Country A/T to make it an able loose-traction fighter while delivering a better on-highway ride, and the stone-ejectors do an excellent job of preventing embedded rocks from buckshotting the people behind you when you transition from gravel to pavement.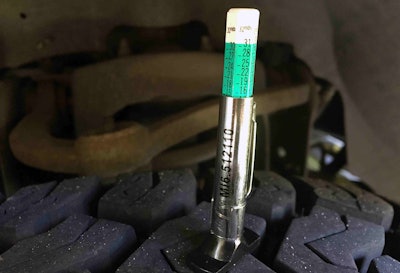 The Open Country C/T's tread compound contains more natural rubber which, aided by its three-ply construction, helps resist cutting, chipping and stone drilling while remaining flexible in lower temperatures. The tread is pinned to accept TSMI #15 studs to aid traction on ice, but the odds that I ever get to use these is close to zero percent. The average low temperature in January is about 35 degrees.
I've found the sound on-highway somewhat quieter than you would expect and marginally quieter than a mud-terrain tire, while also offering similar (and somewhat less spongy) handling qualities.
As the set nears its second rotation, tread wear has been consistent. The natural rubber also contributes to the tire's long tread wear life. Each tire – having spent almost a full rotation on the front and rear – is still showing about 15/32nds of tread.
Toyo's Open Country C/T has been a great overall tire for the duration of this test, tackling everything from rain and mud and hauling trailers in similarly various conditions with seamless transitions between all surfaces.