Landi Renzo announced today that its CNG-equipped 2017 Ford Super Duty pickup passed various crash tests to become fully compliant with Federal Motor Vehicle Safety Standards (FMVSS).
"After two days of frontal barrier, lateral moving barrier and rear moving barrier impact testing, we're excited to announce successful completion of this enduring set of tests, making our F-250/350 CNG fuel system fully compliant with FMVSS-303," Landi Renzo reported in a press release.
"As we previously stated, safety isn't an area we play around with and neither should you. Whether you are responsible for selling CNG vehicles to end users or you're the fleet manager specifying trucks, there is too much liability, and potentially lives, at stake to not buy CNG vehicles that are compliant with federal law."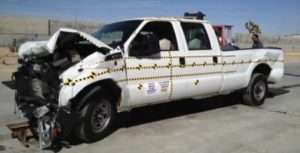 On its website, NTEA sums up FMVSS-303: This Standard applies to MPVs, trucks and buses with a GVWR of 10,000 lbs. (4,536 kg) or less and use compressed natural gas (CNG) as a motor fuel. It also applies to school buses regardless of weight that use CNG as a motor fuel. It specifies requirements for the integrity of motor vehicle fuel systems using CNG, including the CNG fuel systems of bi-fuel, dedicated and dual fuel CNG vehicles.
Here's an excerpt from FMVSS-303 as posted on the website for the Code of Federal Regulations, ecfr.gov: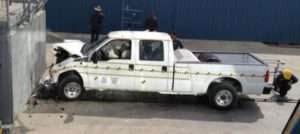 S6.1 Frontal barrier crash. When the vehicle traveling longitudinally forward at any speed up to and including 30 mph impacts a fixed collision barrier that is perpendicular to the line of travel of the vehicle, or at any angle up to 30 degrees in either direction from the perpendicular to the line of travel of the vehicle, with 50th percentile test dummies as specified in part 572 of this chapter at each front outboard designated seating position and at any other position whose protection system is required to be tested by a dummy under the provisions of Standard No. 208, under the applicable conditions of S7, the fuel pressure drop shall not exceed the limits of S5.2.