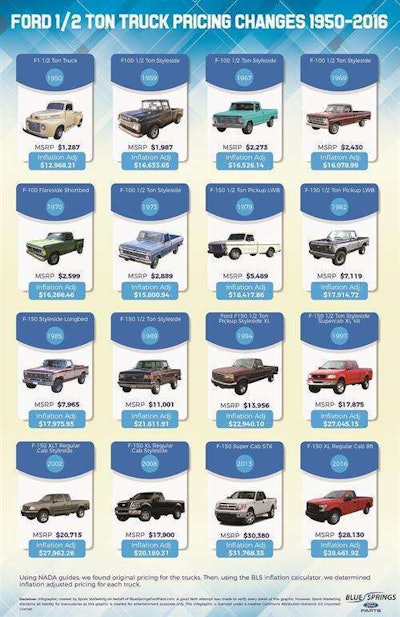 When adjusted for inflation, the price of Ford's flagship F-Series pickup has just more than doubled over the last 65 years, according to data compiled by BlueSpringsFordParts.com.
Using pricing data from NADA guides and other sources, an inflation adjustment was applied to the sticker prices dating back to 1950 using Bureau of Labor data.
"When we put this data together, we were struck by the difference in pricing between 1973 and 1982," says Kyle Harris, director at BlueSpringsFordParts.com. "I guess if you consider the economic times, it's not that surprising. And, yet, when you adjust that 1982 price for inflation, it's practically the same price the F-150 was in 2008."
Ford introduced its F-1 in 1948 as a basic work truck and priced units under $1,300. The F-1 became the F-100 in 1953, when the truck also got an automatic transmission and four engine upgrades.
In the 1960s, the trucks got Twin I-Beam axle and interior amenities to make the ride more comfortable but pricing increased little during this decade. By the mid-70s, the truck had morphed into both a work and family vehicle and the Supercab was born. The F-150 was an option by 1977 and the F-100 disappeared after 1983.
The majority of the jump in price comes from a 54 percent price increase from 1950 to 1959 and a similar price increase more recently – 57 percent between 2008 and 2016.