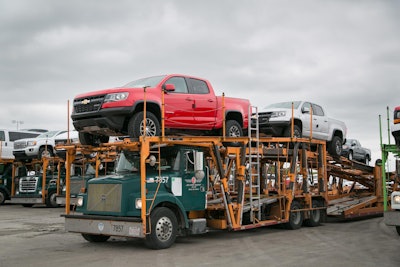 Deliveries of Chevrolet's 2017 Colorado ZR2 pickup have begun, with the first production trucks shipped from the Wentzville Assembly Center 40 miles west of St. Louis, Mo., on Friday.
Customers who placed early orders will begin receiving their trucks in May.
Among this first batch of vehicles is a Red Hot Crew Cab equipped with the 3.6L V-6 engine and eight-speed automatic transmission that will be raced byHall Racing's Chad Hall in August at the Best in the Desert race series.
"The Colorado ZR2 really caught our attention with its built-in versatility and the high-speed, off-road potential of the Multimatic DSSV dampers," Hall says. "We love the ground clearance, ride stability, departure and breakover angles of the ZR2, and the inherent light weight and maneuverability of its midsize package. It should be a great platform for us to build an off-road desert-racing truck."
Following its modifications, the truck will be used as a development vehicle in races at this year's Best in the Desert series, which will provide validation tests for Chevrolet Performance Parts being developed for Colorado owners looking to customize their vehicles for improved off-road performance.
Compared to a standard Colorado, the ZR2 features front and rear tracks that have been widened by 3.5 inches and a suspension lifted by 2 inches. Functional rockers have been added for better performance over rocks and obstacles, and the front and rear bumpers have been modified for better off-road clearance.
Class-exclusive features include front and rear electronic locking differentials, available diesel engine and the first off-road application of Multimatic Dynamic Suspensions Spool Valve (DSSV) damper technology.